Our project to improve cycling in the heart of Warwickshire has moved a step closer with the appointment of Currall Lewis & Martin Construction Ltd (CLM) as the contractor to deliver a range of improvements to Route 41 of the National Cycle Network.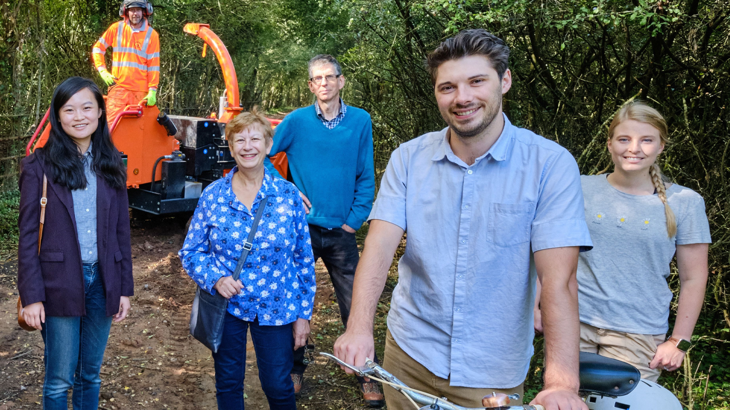 Carmen Szeto meets construction workers, parish councillors and Stratford District Councillor, Louis Adam, and his partner on a stretch of the proposed new route
A long-term project to be delivered in three phases
Known locally as the Lias Line, the route runs through the county between Rugby, Long Itchington and Leamington Spa. It then moves west towards the Grand Union Canal.
Delivery of the improvement works is expected to commence in October 2021 and will be split into three phases.
CLM are delighted to be working with Sustrans on this exciting project. The new cycleway will benefit the local community and realise their 20-year aspirations for this project to be completed.
Phase one will cost around £5.1m and will see the creation of a completely new sealed surface off-road stretch of track.
This will follow the 'branch line' of the old Lias Line railway route creating a more direct connection between the Offchurch Greenway and Long Itchington.
Improved connections between Birdingbury and nearby villages
Subject to funding, the second phase of the work will make use of the old railway 'main line' to create a new off-road track to improve connectivity with Birdingbury and other nearby villages.
Included in this phase, a new bridge over the A423 at Marton will be built to replace an existing bridge which is nearing the end of its life.
This will ensure the new stretch remains safe and accessible for many years to come.
The third and final phase will follow the branch line route south to the Stockton reservoir.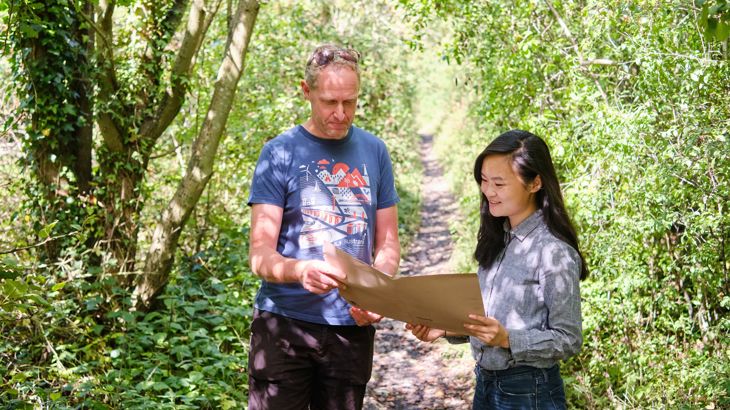 Carmen Szeto reviewing construction plans on-site with Sustrans Land Manager Martyn Brunt
New off-road track between Greenway and Long Itchington
When Phase one is complete, around 4.0km of on-road cycling route between Offchurch Greenway and Long Itchington will be replaced with 5.46km of very good off-road track, improving the safety of the route.
The route will also form part of Warwickshire's longest traffic-free greenway and provide a mix of leisure and commuter activity.
Part of the Paths for Everyone project
The route was selected for improvement following our 'Paths for Everyone' review of the National Cycle Network in 2019.
The review found that much of the off-road sections were overgrown with a poor surface, several sections suffer from poor access points and feature gradients that do not meet current standards.
The existing path will also be severed by HS2.
The National Cycle Network belongs to everyone and it can help all of us to lead happier, healthier lives. That's why I'm so excited by this project which will transform provision for cycling, walking and horse riding in Warwickshire.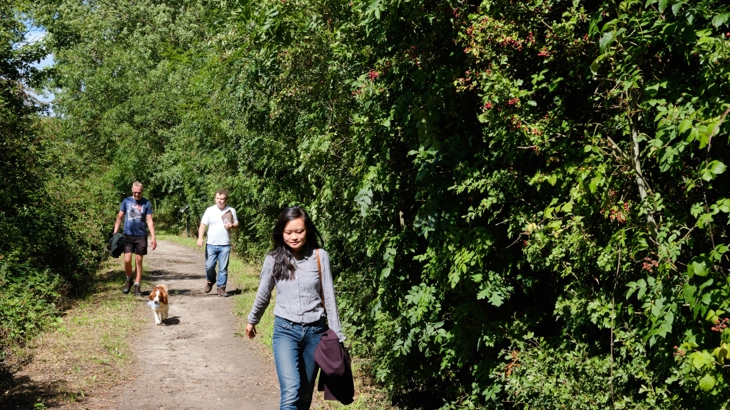 The route will form part of Warwickshire's longest traffic-free greenway and provide a mix of leisure and commuter activity.
Working with partners and the community
Throughout this project, we've worked closely with the local community to ensure we have a project which works for everyone.
The result will be something truly special which we can all be proud of. 
The improvements have been made possible thanks to a funding package from the Department for Transport to improve the Network.
Other partners have also contributed to the Lias Line scheme, including the British Horse Society, Warwickshire County Council, Warwick District Council and Rugby District Council.