Xavier Brice, Chief Executive at Sustrans, responds to the UK Government's Spending Review announced on 27 October 2021.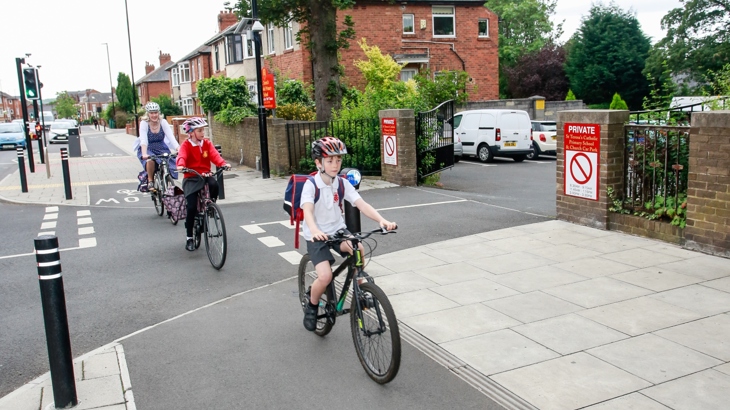 New, good quality infrastructure in towns and cities will make it easier for everyone to walk and cycle for short journeys.
Responding to today's Spending Review, our Chief Executive, Xavier Brice, said:
"We are very pleased that the Government has used today's spending review to commit to the £2 billion investment in walking and cycling up to 2025 which was first promised in 2020.
"This must mark the start of long-term multi-year funding for active travel to make it easier for everyone to walk and cycle more and to drive less for short journeys.
"This will be crucial for reaching net-zero, tackling physical inactivity, reducing air pollution and creating more liveable towns and cities."


Funding
"Last week, the UK Government's Net Zero Strategy reiterated the target for half of all journeys in towns and cities to be cycled or walked by 2030. This is a very ambitious target that highlights the need for long-term, reliable investment in active travel, and also public transport.
"However, whilst the £2 billion of funding is a great starting point for building up walking and cycling, the UK Government's existing targets for 2025, which include doubling cycling, are unlikely to be met, and so we look forward to the Government setting out how they will meet the 2030 target in the forthcoming second Cycling and Walking Investment Strategy.
"The £5.7 billion sustainable transport funding for England's city regions to help level-up transport is also welcome.
"As the Chancellor committed to continue to freeze fuel duty, it is worth acknowledging that there could be a lot more funding to invest in public transport, walking and cycling had fuel duty not been frozen for the last 10 years. This will cost the Treasury £8 billion alone over the next five years which could be invested in sustainable travel elsewhere. And it continues to make driving a more attractive option for longer journeys.
"Given that the cost of driving will become even cheaper as more vehicles are exempt from vehicle excise duty, it's time for the Treasury to start thinking about a fairer, equitable approach for vehicle charging."


20-minute neighbourhoods
"Changes to the planning system which fundamentally make it easier for people to walk and cycle must sit alongside this funding in order for it to be most effective.
"For too long we have been building new housing developments too far away from local services for people to walk or cycle short journeys, which forces people to use their car for quick trips like picking up milk.
"The planning system must deliver more 20-minute neighbourhoods, where everyday services can be reached easily and safely in a 20-minute return walking trip."


COP26
"As we approach the start of COP26, we also call on the Government to reconsider its current plans for building more roads through the second Road Investment Strategy.
"Building more roads generates more traffic, with the predicted upturn in traffic from current road building plans threatening to negate the benefit arising from the switch to electric vehicles.
"And while electric vehicles will reduce emissions at the tailpipe, fundamentally there must be fewer, not just 'cleaner', vehicles on the roads in order to achieve net-zero and the co-benefits that come with reduced car use.
"Roads funding should focus on maintenance or be reallocated to sustainable modes, including improving walking, cycling and public transport."