As the eyes of the world turn to Glasgow for the COP26 climate conference, we met two residents of Glasgow to ask for their advice on getting into cycling. They hope to inspire others to get around the city on two wheels.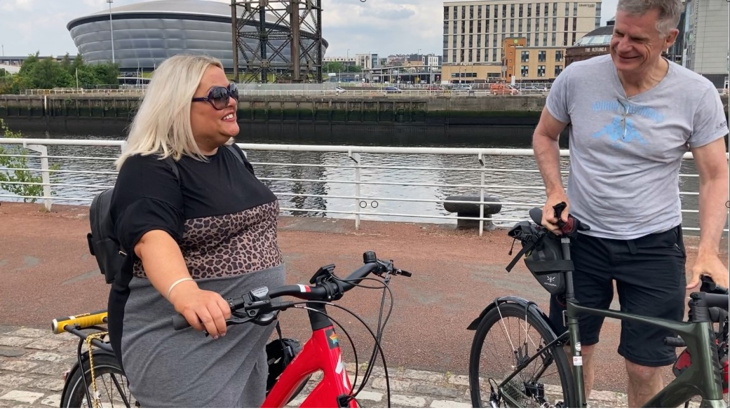 Glasgow residents Lisa and John offer their advice to new bike riders.
Listen to Lisa and John in our video below.

Lisa Peebles lives in the city and works as a civil servant.
She's an e-bike fanatic, and says this transformed her ability to get about the city.
Former rugby international John Beattie is one of Scotland's best known broadcasters who commutes to the studio every day either by bike or on foot.
Accessing e-bikes
Lisa obtained a loan from the Energy Saving Trust to buy her e-bike. She said:
"I was one of these cyclists who, whenever I reached a hill, I had this sense of impending doom and a feeling of real failure because I could just never cycle up a hill.
"And I thought, I'm going to try one of these e-bikes to get up those hills, and it just transformed how I was able to get about.
"It's going to change your life getting a bike. It's the greatest gift you could ever give yourself."
Cutting gym memberships and car insurance
John started cycling to work about ten years ago and says he's never looked back:
"No more gym membership. No more car insurance. You know I hardly drive. I just cycle every day. It's fantastic."
He urges people to seek out advice:
"Go to your local bike shop, because all these guys and girls in bike shops, they all cycle to work every day.
"Get confident on a bike. Be sure of yourself on a bike.
"Get a bike that someone advises you would work with you and then stick with it.
"There are days you get on the bike and think: 'I can't be bothered. It's too cold.' But then you get to the other end and it's just the most wonderful thing."
Cycling to replace short car journeys
Travelling actively for short journeys can have a big impact.
In Scotland, 54% of journeys are under 5 km, roughly 3 miles.
To reduce carbon, we need more of these trips to be undertaken on foot or by bike.
The health and wellbeing benefits of walking or cycling are also well documented.
In cities, like Glasgow, it can often be quicker to get around by bike or on foot rather than in a car. 
Way to Work Scotland has a host of resources to support employers and employees who want to make the shift to active travel.
As part of the Sustainable Transport Alliance, our Chief Executive Xavier Brice will be chairing an event at COP26 on Wednesday 10 November. 
The panel will discuss how communities are taking action to enable greener and healthier travel.
The interactive, inspirational session is titled 'People make transport: communities enabling greener travel'. 
You can book tickets for this event here.
Listen to Lisa and John in our video below.
Book your ticket for our event on 10 November at COP26. Can't attend in person? Join virtually by watching the event live over the COP26 YouTube channel.
Lisa and John tell us what active travel means to them.