Our North team has begun work to provide York's popular walking and cycling path, the Solar System Way, with better access for everyone, including families with buggies, people on mobility scooters, wheelchairs, adapted bicycles or horses.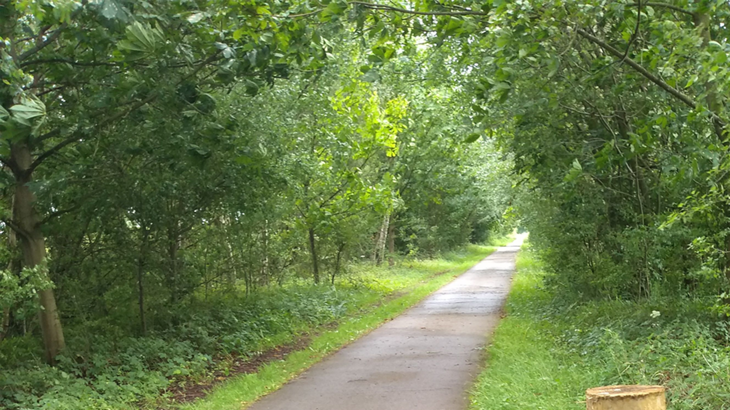 Work starts to improve access on Solar System Way
Around £800,000 is being invested on improvements to the route between the villages of Naburn and Riccall to make the path more accessible.
Staff and contractors will be on-site throughout the autumn and winter months to carry out tree works and to resurface the path.
Throughout this time there will be some route closures and diversions in place to keep route-users safe. Our team expects to complete the work by spring 2022.
A much-loved path
The Solar System Way is part of the National Cycle Network route 65 and the Trans Pennine Trail.
The traffic-free path is hugely popular with people walking or cycling but a number of access controls are difficult to navigate for some users such as those with wheelchairs or mobility scooters or those on horseback.
In recent years sections of the path have been damaged by tree roots which have pushed up the tarmac creating a bumpy and uneven surface.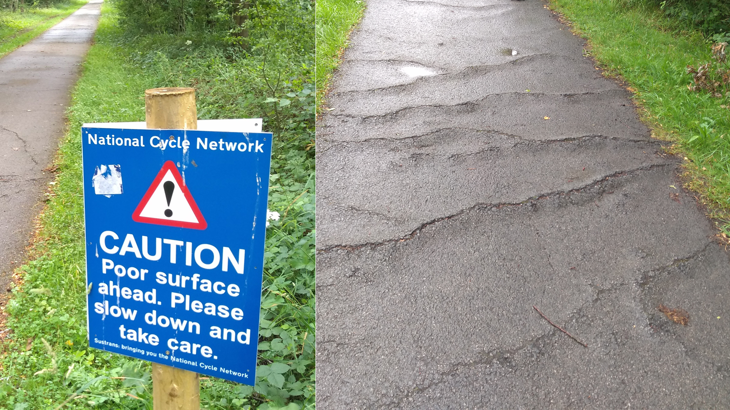 In recent years sections of the path have been damaged.
A more comfortable journey for everyone.
Our team will address these issues by redesigning or removing barriers. They will resurface the route to provide a smoother path, with some wider areas to allow a more comfortable journey for everyone.
We will also improve signs to help people navigate the route more easily.
Danny Morris, our Senior Project Officer in York said: "The Solar System Way is a real community asset.
"It's not just a means of getting from A to B but also a social space where people can meet with friends and family, explore their local area or just enjoy being out in nature.
"It should be accessible for everyone."
Enhancing biodiversity and connectivity
We'll also be enhancing habitats along the route. Sustrans will be looking to involve volunteers and local community groups to help with the improvements.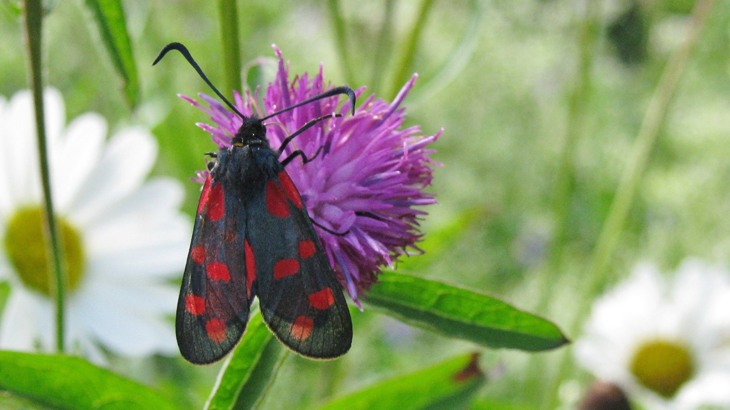 The Solar System Way is a valued wildlife corridor.
"The Solar System Way is a valued wildlife corridor which allows animals to travel between habitats as well as providing a habitat in its own right.
"It's great to see that part of the project will involve enhancing biodiversity and connectivity with the help of the local community," said Danny.
It's wonderful to know our partners at Sustrans continue to strive for investment in the Trans Pennine Trail and support our work on accessibility. This is a popular section of the TPT and the enhancements will provide better facilities, not just for locals, but for visitors using the TPT.
Our North team are working closely with City of York Council and Selby District Council to improve the Solar System Way.
The Solar System Way is a part of National Cycle Network route 65 which runs from Hornsea to Middlesborough via Hull, Selby, York and Easingwold. It is also part of the Trans Pennine Trail which links Hornsea to Southport and includes a 6.4 mile scale model of the Solar System.
Suitable for all
We are working with local authorities across Yorkshire to help improve local cycle and walking networks.
Earlier this year the Department for Transport (DfT) announced £30 million funding for the National Cycle Network. It has kick-started dozens of infrastructure upgrades across the UK.
Route improvements to the National Cycle Network are part of our recommendations in its Paths for Everyone report: a review of the Network released last year.