A section of the Sea to Sea path has reopened after almost a year of construction works to strengthen Vigo Bridge on the A1(M), which passes over the popular long distance route.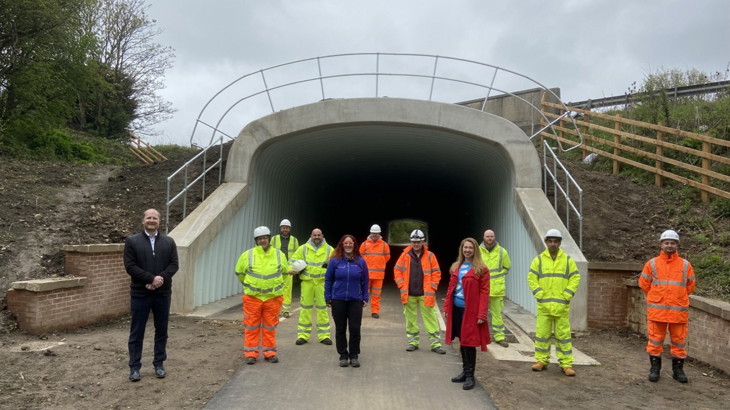 The construction team built a steel-lined tunnel under the bridge and backfilled it with concrete.
Our Sustrans North team owns and manages this section of the Sea to Sea path.
They worked with Highways England to widen the path to two metres and three metres at the tunnel opening.
This creates better sightlines for users and they also improved its surface, drainage and accessibility.
Vigo Bridge open again
The walking and cycling route provided the only access for maintenance to Vigo Bridge, where the motorway is five lanes wide.
During the extensive project, the construction team built a steel-lined tunnel under the bridge and backfilled it with concrete.
They also created a temporary access ramp to bring in materials, which has now been removed, filled in with soil and sown with wildflower seeds.
Although works began in May 2019, the team suspended activity during the busy summer months to allow people to walk and cycle along the route.
A great time for walking and cycling
Gina Clarke, our Land Manager for the North East and Cumbria said:
"It's great to see this work completed and open to users once more.
"This section now has significant improvements for people walking, cycling or using a wheelchair or mobility scooter.
"There are also reduced maintenance issues on the bridge for years to come."
Richard Marshall, Highways England regional director for Yorkshire and North East said:
"Since the start of the Covid-19 pandemic, there has been an increase in the number of people taking to their bikes and exploring the area around them.
"It's important that Highways England is able to provide road users with alternative, sustainable transport choices so we are delighted to be able to fully reopen the Sea to Sea cycleway through the A1(M) Vigo Railway tunnel.
"We hope many cyclists will take advantage of and enjoy, the improved facility."
The Sea to Sea (C2C)
The Sea to Sea is the UK's most popular challenge cycle route, which travels 137 miles between the Irish Sea and the North Sea, from Cumbria to Tyne and Wear.
It passes through the northern Lake District before climbing the Pennines and descending to the railway paths of County Durham.
It is part of the National Cycle Network – over 12,763 miles of walking and cycling routes, more than a third of which are traffic-free.
We own and manage just two per cent of the Network, including the section between Consett and Chester le Street on the Sea to Sea.