Welsh Government have published their final New Wales Transport Strategy pledging a major reduction in carbon emissions from the transport network in Wales. The strategy, 'Llwybr Newydd – New Path', will shape Wales' transport system over the next twenty years. It sets out a range of new ambitions to reshape transport in Wales.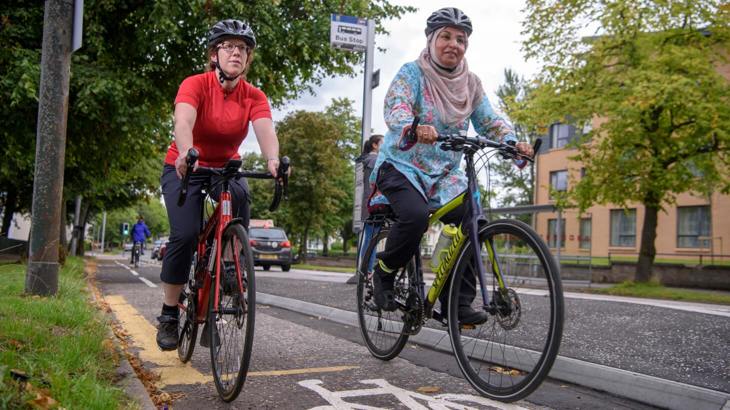 After commenting on the scoping report and draft strategy earlier this year, Sustrans Cymru very much welcomes that the government has taken many suggestions for improvement on board, including:
A target for a modal shift – 45% of journeys are to be made by public transport, walking and cycling by 2040.
Prioritising reducing the need to travel.
Better embedding the Sustainable Transport Hierarchy within the government's ambitions requiring all new developments to have active travel facilities plugged in from day one.
A stronger commitment to equality and accessibility, including the need for consultation with those who face barriers to accessing transport.
A proposal to roll-out a Wales-wide approach to equitable road user charging.
  
A more inclusive transport network in Wales
Christine Boston, Director of Sustrans Cymru said:
"We are pleased to see a clear steer away from the private car in this final edition of the Wales Transport Strategy.
"We commend the way the Welsh Government have embedded modal shift, the sustainable transport hierarchy, and recognised the need to focus on changing people's behaviour to achieve a transformation in the way we travel.
"This transport strategy will ensure a cleaner, greener and more inclusive transport network is established, that will better connect communities now and create a lasting legacy for future generations.
"We truly hope cross-party support for this agenda will enable the next Welsh Government to move ahead swiftly with the delivery plans once the new Senedd term starts."