A survey of parents in schools in Plymouth has shown that there is a big appetite for walking, cycling or scooting for the school run.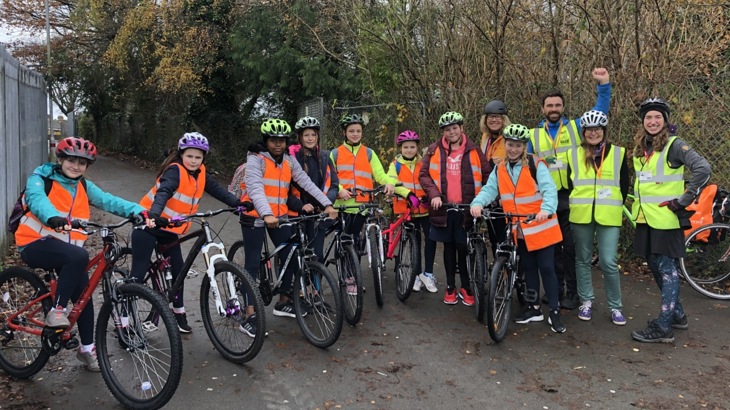 Sustrans works with pupils to build their skills and confidence on bikes
We carried out the survey in the 40 schools it worked with in Plymouth in the last academic year. It was answered by over 500 parents and carers.


Majority of journeys to school are active
The results showed that the majority of journeys to the schools where we works are now made using active forms of transport – walking, cycling or scooting.
61% of parents said that their children usually travel to school in one of these ways.
72% agreed that active travel would be their preferred transport mode.


Fewer cars around the school gates
Councillor Mark Coker, Cabinet Member for Strategic Planning and Infrastructure said:
"The results of this survey are extremely encouraging; not only the current levels of walking and cycling to school but the appetite for even more.
"As pupils head back to school in March I'd encourage all families to consider walking, cycling and scooting on their journeys."
"An active school run frees up the limited space on public transport for those who really need it.
It also means there are fewer cars around the school gates, making more space for a socially distanced drop-off.
"This is in on top of the many other benefits for health, air quality and the environment that active travel brings."


Raising awareness of the benefits
Funded by Plymouth City Council, our Bike It Plus programme aims to increase the number of pupils regularly travelling actively on the school run.
At the same time, it raises awareness of the benefits of active travel.
The project teaches pupils about the impact of travel choices on the environment and air quality.
Our officers work with children and their families to build their skills and confidence in cycling, and to inspire them to leave the car at home.
We also run popular Dr Bike sessions, to make sure children's bikes are in good working order and ready for the journey to school.


Still some barriers to overcome
James Cleeton, Sustrans director for the south of England, said:
"It's great to see so many children and their families embracing scooting, walking and cycling to school in Plymouth.
"It means pupils are getting exercise every day and there are fewer cars on the road, which benefits everyone.
"However some parents who responded to our survey said they were put off walking, cycling or scooting because of road safety concerns, or because there isn't enough secure cycle storage at school.
"This suggests that more could be done to enable everyone who wants to, to travel actively to school and enjoy all of the benefits this brings.
"By providing the Bike It Plus in schools as part of the fantastic city-wide Plymotion programme, the council is equipping young people with the skills, knowledge and confidence they need to make sustainable travel choices.
"It's now essential to breakdown the remaining barriers that dissuade many others from making the more active, sustainable and healthy choice for those weekday trips to school."
Work for a school and interested to know how we can support you and your pupils? Email the Council's Plymotion team on plymotion@plymouth.gov.uk.