A scheme to transform the National Cycle Network in Warwickshire has taken a huge step forward this week after Stratford-on-Avon District Council granted planning permission.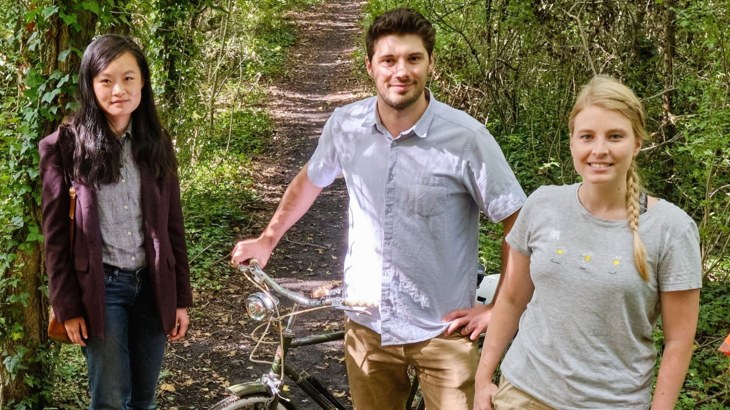 Pictured: Carmen Szeto with Cllr Louis Adam and his partner on a stretch of the proposed new route.
The first of three planning applications necessary to complete the scheme on Route 41, also known as the 'Lias Line' has been granted.
The second is expected to be determined by Rugby Borough Council by the end of March. Following that, is Warwick District Council.
  
To be completed by Summer 2022 
If all three applications are approved work could start mid-2021 and be completed by summer 2022.
Delivery of the improvements will be split into three phases starting near Rugby.
In the first phase, the route will be diverted onto a completely new sealed surface off-road stretch of track.
This will follow the 'main line' of the old Lias Line railway route creating a more direct link between the villages of Offchurch and Birdingbury.
A new bridge over the A423 at Marton is proposed to be built to replace an existing structure. This phase of the project will cost around £4.5m.
  
A new traffic-free route
The grant of planning permission in Stratford covers phases two and three of the project.
Subject to funding, these improvements will make use of the old railway 'branch line' to create a new off-road track to improve connectivity with Long Itchington and other nearby villages.
The improvements have been made possible thanks to a £20m funding package from the Department for Transport to improve the National Cycle Network.
The grant followed our 'Paths For Everyone' review in 2019 which found that the Lias Line was in very poor condition.
HS2 will be constructing Offchurch Cycle Overbridge over the Fosse Way to reconnect the Lias Line Greenway to the Offchurch Greenway.
  
Warwickshire's longest traffic-free greenway
Commenting on the planning application Carmen Szeto, our Senior Network Development Manager, said:
"Throughout this project, we've worked closely with the local community so we're really pleased that planning permission has been granted in Stratford.
"When this scheme is complete it will provide cyclists, walkers and horse riders with a mix of leisure and commuter opportunities.
"Around 8.3km of on-road provision between Leamington Spa and Rugby will be replaced with 6.18km of very good off-road track.
"This will create a safer route which will also become Warwickshire's longest traffic-free greenway.
"We're really pleased with this decision and we now eagerly await the outcome of the process in neighbouring Rugby and Warwick."
  
Improving accessibility
Cllr Louis Adam, who represents Long Itchington and Stockton Ward on Stratford District Council is also backing the scheme.
Commenting on the decision he said:
"I am very pleased to see a step towards improved cycling routes in our area.
"This stands to improve both people's health and wellbeing, and our local economy.
"I trust that this development of the Lias Line will improve accessibility to the countryside for our residents and support a sustainable environment in our rural setting."