A 3.1km stretch of the popular Trans Pennine Trail has reopened with an all-new environmentally friendly surface. This will make the trail accessible to many more users in all weathers. The work was carried out by Barnsley Council as part of our funding from the Department of Transport, helping to improve this well-used stretch of the National Cycle Network route for walkers, cyclists and horse riders and mobility-impaired users.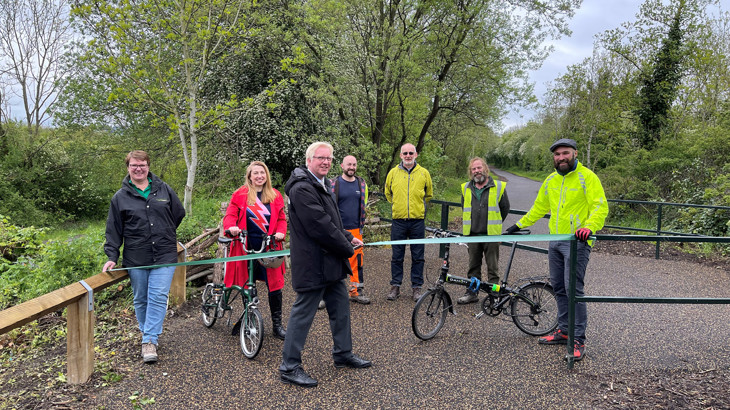 We used recycled and eco-friendly materials to resurface the route and make it more accessible to all users.
About the new path
The new Flexipave path, made using 16,000 recycled tyres, has been laid on the trail from Haverlands Lane at Worsbrough Bridge to Smithy Wood Lane, Dodworth.
The new 2.5m-wide surface offers much more grip to walkers and cyclists in all weathers including very wet or icy conditions.
The high rubber content in the surface makes it more pleasant to walk or run on than a more traditional hard surface, and it allows water to pass straight through it to the soil beneath.
  
The opening ceremony
The ribbon was officially cut on 26 May by Cllr John Wilson, Vice-Chair of the Trans Pennine Trail (TPT) Executive Board.
Representatives of our North team and Barnsley Council, the Trans Pennine Trail national office and the two contractors Barnsley Countryside Rangers and KBI UK also attended.  
Final works on information boards, wildlife trail markers and additional seating will be installed during the next few months to complete the project.
  
An incredible asset
Cllr Chris Lamb, Cabinet Spokesperson for Environment and Transport at Barnsley Council said:
"The Trans Pennine Trail is an absolutely incredible asset and I'm delighted we've been able to improve it and protect it for use by people of all ages and levels of mobility.
"This week we've also had the first community volunteer event on this section of the trail coordinated by Sustrans after a long 14 months of Covid-19 restrictions.
"The volunteers have been planting wildflowers on the bank and car park area to improve the biodiversity on this section of the TPT.
"It's great to see recycled tyres put to such good use, making the trail more comfortable to use and also improving drainage."
  
Creating paths that everyone can access
Rosslyn Colderley, our Director in the North of England said:
"It's been great to work in partnership with Barnsley Council and the Department for Transport to help improve this section of the National Cycle Network for everyone.
"It's part of work we're carrying out across the UK to raise the standard of the Network for all abilities.
"We aim to create paths which everyone can access, whether that is walking, cycling, using a mobility scooter, double buggy, or an adapted bike.
"There's lots of work to be done and we are continually looking for more funding to improve the Network.
"We are keen to hear from anyone who may be able to help support this work to create paths for everyone."
The Trans Pennine Trail is an absolutely incredible asset and I'm delighted we've been able to improve it and protect it for use by people of all ages and levels of mobility.
Working together
Gillian Ivey, Chair of the Trans Pennine Trail Partnership, said:
"This latest phase of works in Barnsley has really shown what can be achieved through partnership working.
"It's wonderful to see Sustrans as a national organisation supporting the Trans Pennine Trail's partnership's initiative to improve accessibility in terms of surfacing and access controls."
  
High praise from the local community
Graham Pell, Managing Director of Dodworth based KBI UK, said:
"The previous pathway was a combination of natural ground and compacted stone, which would become extremely muddy during the winter months.
"In addition to using recycled materials, the Flexipave path is also porous, which will allow rainwater to drain straight through it.
"We've previously worked on several large sections of the Trans Pennine Trail.
"And as part of the current project will be undertaking community work in Dodworth and Worsbrough to raise awareness of recycling and using eco-friendly materials.
"The path is already receiving praise from locals, with young cyclists, wheelchair users and pram users all being able to access the route."
  
About the Trans Pennine Trail
The Trans Pennine Trail is a coast-to-coast route that runs 215 miles between Southport and Hornsea.
More funding bids have been submitted to improve other sections of the trail through the borough which if successful will see work carried out before the end of March 2022.