A scheme to close Chilton Road to motor traffic in Upton, Oxfordshire, has been given the green light to go ahead. The closure has been trialled using temporary barriers for a number of months. It will now be made permanent following a positive response to public consultation.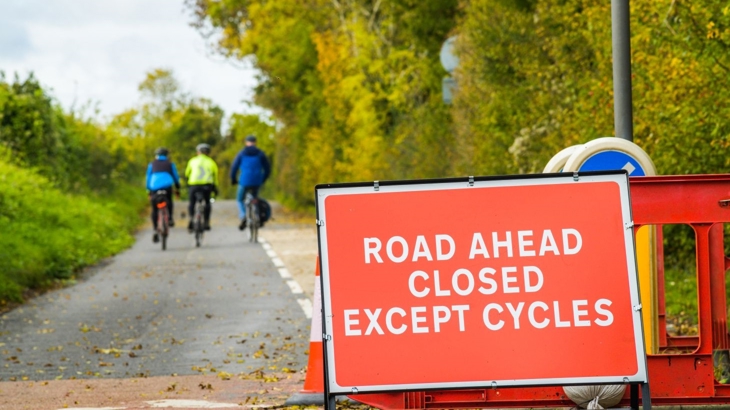 The road is part of route 544 of the National Cycle Network, but was considered to be too busy with motor traffic to be safe for people walking and cycling. Photo: Photojb
In 2019 Sustrans was awarded £177,000 by the Department for Transport to reduce traffic speeds and volumes on Chilton Road.
The aim is to make it easier for people to choose active travel for local journeys, whether they travel to work or use route 544 for leisure.
Many people were being put off by the fast-moving traffic on the short on-road section.
  
Supporting a move to permanent
The response to Oxfordshire County Council's public consultation on the closure was overwhelmingly positive, with over 200 people giving comments.
Ann Parnham, a resident of Upton, said:
"[Before the trial closure] we have seen many near misses as cars raced up or down the hill to get through the chicane.
"Since the [trial] closure there is an increase of use by cyclists, walkers, horse riders and indeed children in and on a variety of wheels! It is lovely to see families of all ages going up and down the road safely.
"There is an increase in wildlife and evidence of animals along the verges and in the hedgerows. It was lovely to see people foraging for blackberries and damsons in the autumn.
"Before my husband passed away he was wheelchair-bound for many years and found it very difficult to go around the village on his own due to traffic.
"It is lovely to think that anybody with a similar disability can now travel easily up and down the road enjoying the freedom and knowing they are safe."
  
Installing a crossing to improve safety
As well as closing Chilton Road to motor traffic, we will be installing a new signalised crossing on the A417 to improve safety.
This has been warmly welcomed by residents.
  
Taking the scheme forward
Louis Devenish, Senior Network Development Manager from Sustrans said:
"We're really excited to be taking this scheme forward.
"From the responses to the consultation, it's clear that closing this road to traffic will make a significant positive difference to the lives of people living in the area, and using it for local journeys, such as travel to Harwell Campus.
"Being able to test the closure through the government's Emergency Active Travel fund has been really beneficial, as it has allowed people to understand the difference that the changes we were proposing would really make.
"We're looking forward to working on the detailed designs and starting construction later this year."
  
Committed to outstanding cycling infrastructure
Cllr Tim Bearder, Cabinet member for Highway Management, said:
"The county council is delighted to be working with Sustrans.

"We recognise that if we are going to spend hundreds of millions of pounds on new roads, we'll have to decommission some of our old ones.
"What better way than repurposing them into cycle tracks?
"Like us, Sustrans are committed to making next-generation cycling infrastructure that is genuinely outstanding so that people are given the opportunity to lead healthier, safer, less polluting lives."