Bike to Nature, a Sustrans and Sussex Wildlife Trust project, has been nominated for a national School Travel Award. The project helps pupils in Brighton and Hove to access and learn about the green space in their local urban area.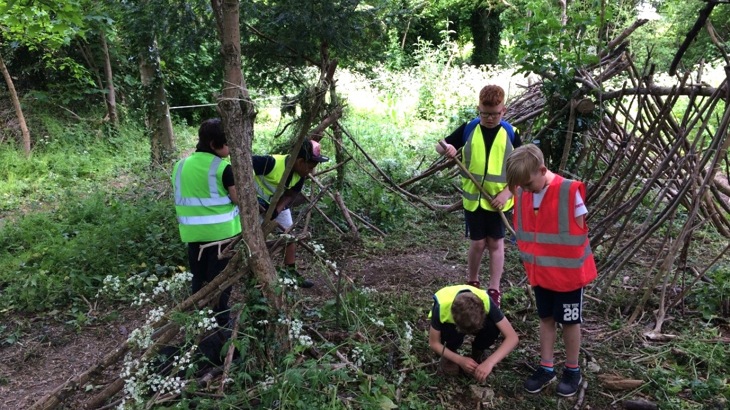 During the trip students took part in bread making, chalk painting and den building.
Sustrans and Sussex Wildlife Trust have been working together on Bike to Nature for eight years.
The project provides pupils with the skills and experience to cycle out to a local green space.
They feel the benefits of sustainable and active travel while they explore, enjoy and learn about the environment around them.
The project has been nominated for the national 'My best school trip' award by Queen's Park Primary School.
They participated in the project, resulting in a trip with two groups of Year 5 pupils back in 2019.


Getting ready for an adventure
Our Bike-It officer Lucy Dance worked with Queen's Park Primary School in the months leading up to the trip.
We ran playground sessions to build the children's cycling skills and confidence.
For some, this was a refresher, while others learned to ride a bike in the months leading up to the trip.
Those that didn't have access to a bike were able to borrow one.
Along with building their confidence and skills, the team worked hard to make the trip inclusive and accessible for the whole class.


Choosing active travel
Queen's Park Primary School's adventure began with a cycle from school to Deneway Nature Reserve.
The location of the green space visited for this trip was carefully considered.
It needed to be local and accessible by the pupils, offering them a potential future haven in their busy urban environment.
Travelling by bike provided the pupils with the many benefits of being active.
They experienced the feeling of independence and freedom that cycling can bring, along with the benefits to their physical and mental well-being.
And it's a sustainable choice that helps to protect the environment that they were heading out to the nature reserve to explore.


At the nature reserve
When the pupils arrived at the reserve they took part in a series of activities run by Sussex Wildlife Trust.
During the trip, their classroom topic of Anglo Saxons was brought to life. They took part in bread making, chalk painting and den building.
After taking part in each of the activities on offer, they came together, built a campfire and enjoyed the bread they had made.


Taking part in the Bike to Nature experience
Bike to Nature allows pupils to connect with their local green space, something the pandemic has proved is a salvation for a lot of people.
Mhari Smith, a teacher at Queen's Park Primary School, said: "It was great to see the students building up new skills on a bike.

"This improves their confidence and self-esteem and has many positive impacts on their physical and mental health.

"Bike to Nature also builds the pupils' experience of sustainable travel and knowledge of the environment."
Lucy Dance, our Bike It Officer explained: "Many councils are making a pledge to reach carbon neutrality in the coming years. 
"Taking part in this project is a step towards that goal by reducing traffic and air pollution in our towns and cities."
The project provides the school, and the pupils and their families, with ways to help protect the environment from air pollution and climate change.
The Bike to Nature project is funded by Brighton & Hove City Council, through the Access Fund.