Work has begun on Festival Way to improve safety for pedestrians and cyclists crossing the busy B3128 near Ashton Court Estate. The project is being delivered by North Somerset Council, with funding through Sustrans' Paths for Everyone programme and the Joint Local Transport Plan.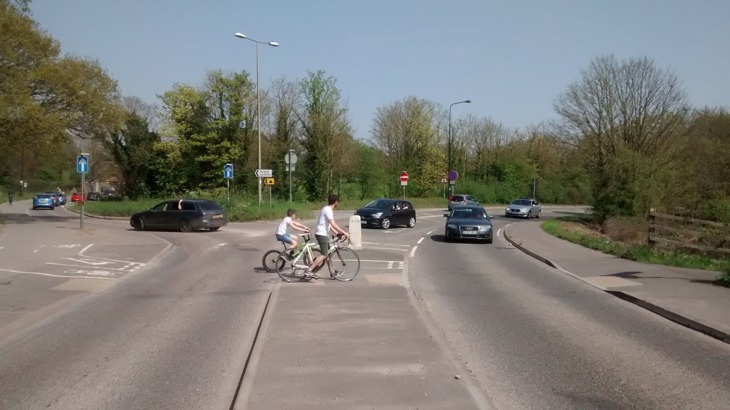 The Festival Way is getting £170,000 of investment to improve safety for pedestrians and cyclists crossing the busy B3128.
With 300 journeys per day, the mostly traffic-free Festival Way is well used.
It plays an important role for those travelling for work, school and leisure.
Sustrans identified the crossing near Ashton Court Estate as a priority for improvements after a nationwide audit of the National Cycle Network for our Paths for Everyone review in 2018.
We allocated £140,000 of Department for Transport funding to North Somerset Council to deliver the safety improvements.
Additional funding from the Joint Local Transport Plan met the total cost of the scheme. 
Safe, accessible transport
A new signal-controlled Toucan crossing will create a suitable place for all path users to safely cross the high volumes of traffic on the B3128, including those with adapted cycles, tandems and cycle trailers. 
The improvements will connect the popular Festival Way to Bristol, and to the recently built cycle route through Ashton Court.
Visibility will also be increased by removing low-level vegetation and raising the crown of some sycamore trees.
This will help people using the crossing and driving on the road, to see one another.
During the works
Work began on Monday 1 February. 
The route will be closed on the approach to the B3128 for six weeks, with a sign-posted diversion in place.
James Cleeton, Sustrans director for the south of England said:
"It's great that this project is finally happening.
"It's one of our Department for Transport-funded activation projects, aimed at making the National Cycle Network more accessible and more enjoyable for everyone.
"We need to make changes to the way we travel if we are to tackle the climate emergency.
"By providing this safer link for active travel, North Somerset Council are taking important steps to doing this.
"I look forward to using it myself in the years to come."
Cllr James Tonkin, North Somerset Council's executive member whose portfolio includes transport, said:
"We are extremely pleased to be able to improve this vital active travel link between North Somerset and Bristol.
"We are serious about creating a greener and cleaner North Somerset with more sustainable and active travel choices available for residents and visitors."