Two parallel crossings with dedicated walking and cycling space have been installed, connected by two-way cycle lanes on a stretch of National Cycle Network Route 256 on Leigh Road in Wimborne, Dorset.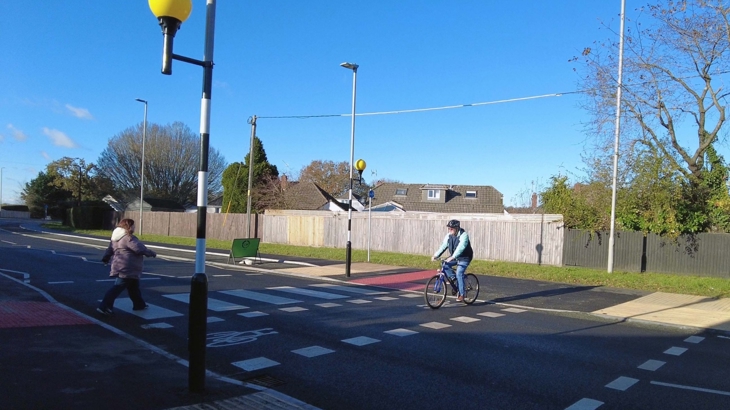 Two dedicated walking and cycling crossings make active travel safer and more enjoyable in Wimborne. Photo: BCP Council / Dorset Council
This forms part of a larger project being delivered by Dorset Council and Bournemouth Christchurch and Poole Council in the area.
This phase is being delivered thanks to funding from the Department for Transport through our Paths for everyone programme, and The Transforming Cities Fund.

Dedicated walking and cycling crossings installed
This phase includes the construction of two new parallel crossings with dedicated space for both people walking and cycling – some of the first of this design in the Dorset Council area.
One crossing is located west of the Old Ham Lane junction and the other west of the Hayes Lane Junction.
These new crossings are to further enhance safety for people walking, cycling or using mobility aids in the area.
The two new crossings are similar to zebra crossings, but with an additional lane running parallel.
The crossings provide a safe route across the road for people walking, wheeling and cycling.
They are not controlled by traffic lights but have a flashing orange beacon similar to a zebra crossing.


A continuation of the two-way cycle lane
This phase also included a continued two-way cycle lane on the north side of the road up to the new parallel crossing to the west of Old Ham Lane.
The cycle lane then splits into separate one-way east and west bound lanes on either side of the road.
The lane will be continued in the next phase of the scheme and white lines and signs will be added soon.
Coming up in the next phase of improvements
Construction of the third and final section of the Leigh Road sustainable transport route is now underway, with expected completion in the new year.
This final phase will complete the new cycle lanes and pedestrian footpaths on both sides of Leigh Road, up to the Brook Road junction.
It will also include repairs and a full resurfacing of the road.
More sustainable travel improvements in the area
The sustainable travel improvements on Leigh Road and Wimborne Road West form part of the 27km sustainable travel route that will eventually link Ferndown and Wimborne with Poole town centre.
Work has already started on new cycle, walking and bus improvements along Ringwood Road in Ferndown, which also forms part of this green travel route.
Encouraging more people to choose active local journeys
Councillor Ray Bryan, Dorset Council's Portfolio Holder for Highways, Travel and Environment, said:

"It is really pleasing that this project is making good progress and is bringing new amenities to the growing communities around Leigh Road and Wimborne Road West.
"The two new crossings are a particular bonus as I have received much feedback from local residents saying that this road can be particularly difficult and dangerous to cross, particularly for young families with pushchairs and users of mobility scooters.
"The new cycle lanes and bus stops along the road will of course be a great benefit and will encourage more people to cycle, scoot, walk or take a bus for their shorter local journeys.
"This will in turn reduce congestion by reducing the number of cars on the road."

Providing a safe space for people to enjoy
Sarah Leeming, Interim Director for South of England at Sustrans, said:

"We're so pleased to see these improvements completed.
"Providing a safe space for people to cross the busy road whilst travelling actively in the area goes a long way to enabling people to choose walking, wheeling, cycling or scooting for their everyday journeys.

"These improvements are part of our Paths for Everyone programme, helping to bring us one step closer to a National Cycle Network that is safer and more enjoyable for everyone who wants to use it."
Find out more about our work to improve cycling and walking across England.


Learn more about our vision to create paths for everyone.