People across Northern Ireland are being urged to leave the car at home this September and sign-up to Northern Ireland's Active Travel Challenge, for a cleaner, healthier and more environmentally friendly way to get around.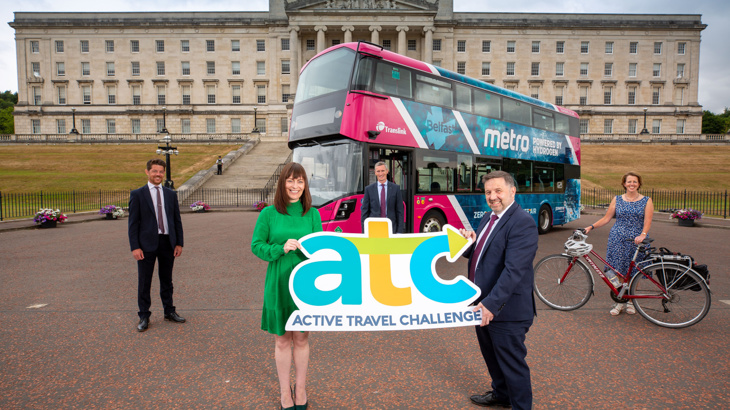 Infrastructure Minister Nichola Mallon and Health Minister Robin Swann join David Tumilty (Public Health Agency), Paddy Anderson (Translink) and Caroline Bloomfield (Sustrans) for the launch of the Active Travel Challenge.
Green recovery
Right now, many people, organisations and businesses are looking at green Covid-19 recovery plans, particularly as we move towards COP26 the largest global climate conference in the UK.

This year the challenge brings a huge opportunity for people to change their travel habits for the better.
Choosing to walk, cycle, take the bus or train or a combination of the above will help them to stay physically active and support their mental wellbeing.

These steps will help accelerate action on climate, improve local air quality and create a much better quality of life for all.

The joint initiative has been championed by Translink, the Department for Infrastructure, Public Health Agency, Sustrans, Belfast Health and Social Care Trust, and Belfast City Council.

It is part of a collaborative drive to inspire people to adopt greener travel options that will prioritise their health and wellbeing and support Northern Irelands 'green' economic recovery and progress towards a low-carbon future.
About the challenge
Challenge registration is free.
Participants can log their 'active travel' journeys online throughout September.
There's a different theme each week and a range of prizes and incentives up for grabs including shopping vouchers and Translink tickets.
Improved physical health and mental wellbeing
Speaking about the launch, Health Minister Robin Swann commented:
"I welcome the Active Travel initiative and would encourage everyone to look at how they can make their daily journey to work and indeed all journeys a means to improve their physical as well as mental health.

"Adopting more active and sustainable modes of travel, be it cycling or walking, has been long recognised as providing benefits to peoples physical wellbeing as well as being of benefit to the environment."
Climate crisis is a priority for everyone
Infrastructure Minister Nichola Mallon added:
"Tackling the climate crisis must be a priority for everyone. The Active Travel challenge encourages us all to think differently about how we travel and how we can all contribute towards a low-carbon future. 

"I am delighted that my department is working in partnership with other agencies to support this challenge."
Together we can make a real difference. I would encourage everyone to take part, leave the car at home this September and consider walking, wheeling, cycling or using public transport for everyday journeys if you can
Ditch the car this September
Encouraging everyone to sign up to the Active Travel Challenge, Sustrans Director Caroline Bloomfield:
"This year we are encouraging everyone to get active on their everyday journeys. 
"Instead of sitting in a traffic jam or spending time looking for car parking, why not try walking or cycling as part of your commute, shopping trip or for leisure.

"The Active Travel Challenge is a great way to kick-start being active in your daily routine and make the change to a healthier lifestyle that will also benefit the environment."
Reduce congestion, reduce pollution
Translink Group Chief Executive Chris Conway said:
"We offer a vital public service and as restrictions ease, our safe and clean services are ready to welcome more people on board whether they are connecting to work, education, health, shops, sport or social activities.

"Climate change is undoubtably the biggest threat of our time.
"Signing up to this challenge means everyone can do their bit to reduce congestion, reduce pollution and create a cleaner, more inclusive society for all."
Health benefits of active travel
David Tumilty, the PHA's lead on Active Travel said:
"Building active travel into your working day through walking and cycling can help contribute to meeting the Chief Medical Officers' recommended amount of physical activity of 150 minutes each week.

"Research shows that people who are physically active can improve their sleep, help maintain a healthy weight and reduce stress and anxiety.

"Physical activity can also reduce their risk of developing chronic conditions including heart disease, stroke, type 2 diabetes, cancer and respiratory conditions.
"And with the exacerbating impact of the pandemic on people in our communities with co-existing conditions, I would encourage people to take part in this year's challenge."
Email challenge@sustrans.org.uk for information on how Sustrans can support you.
Keep up-to-date with all the latest ATC action on social media using #GetMeActiveNI.