Sustrans Leading the Way programme has just been launched for employees who work in Newry and Downpatrick. It aims to encourage more people to commute to work by walking, cycling and staying active if working from home.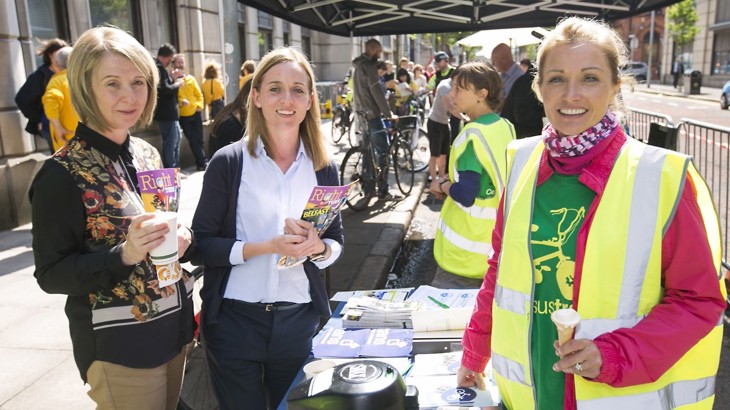 A Leading the Way cycle to work event held pre-covid in Belfast
We're working with a number of workplaces to help them embed active and sustainable travel into their organisation.
We're doing this by supporting employees to commute more actively or become more physically active at home.
As Northern Ireland begins to ease restrictions and learns to live with the impact of Covid-19, many employers are considering how they can support their staff to return to the workplace safely.

Staff from workplaces including Daisyhill and Downe Hospital, South Regional College, NI Fire and Rescue Service and the Council can take part in a wide range of free activities.

These include:
online training sessions for beginners
virtual sessions for returning cyclists
'Bike Ready' webinars.
And when regulations allow:
cycle training
led rides and walks
and e-bike tryouts.
  
New and improved normal
Newry, Mourne and Down District Council Chairperson, Councillor Laura Devlin said:
"We are delighted to deliver this exciting Active Travel programme in partnership with Public Health Agency and Sustrans and working with the local organisations involved.

"Our employees have a desire to return to a new and improved 'normal' following the Covid-19 lockdowns.
"And the Leading the Way programme will help us all be more active which can only be a positive outcome for both health and the environment."
  
Investing in employee health and wellbeing
Sustrans Director, Caroline Bloomfield said:
"It is a significant step forward for workplaces in the Newry, Mourne and Down District Council area to invest not only in their employees' health and wellbeing but also to address issues such as sustainability and air pollution.
"These workplaces are indeed leading the way and we hope other organisations will follow suit."
We have been working with the Council and recently undertook a resident's survey on how active travel could be improved in the district. We had an overwhelming response which shows there is a thirst for change and look forward to working with the council and its residents in a greener recovery post-pandemic
Happier and more productive staff
Research shows that commuting more actively can benefit both physical and mental health, in turn resulting in happier and more productive staff.
The Leading the Way programme has been delivered successfully in Belfast and Derry/Londonderry since 2014.

Employers have found that workforce active travel has increased by 5.1%.
Cycling has risen nearly 5%, car use reduced by over 10%.
And physical activity recorded in a 2018 study showing a 9.1% increase in respondents taking at least 150 minutes of physical activity per week.

The programme is delivered by Sustrans on behalf of the Public Health Agency NI.
It's funded through the Covid-19 Recovery Revitalisation fund from the Department for Infrastructure, Department for Communities and Department of Agriculture, Environment and Rural Affairs in partnership with Newry, Mourne and Down District Council.