We've teamed up with Scouts Scotland to launch a new activity pack to encourage more young people to get active outdoors, explore their local neighbourhood and improve their health and wellbeing.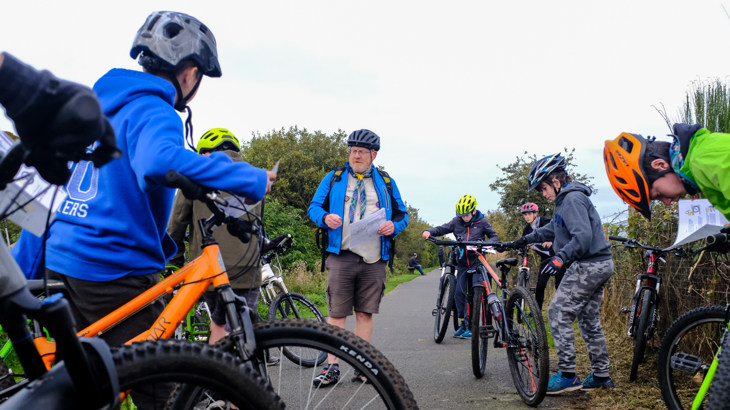 Scouts from the 83rd Fife Scout group in Culross using the Activities on the National Cycle Network activity pack ©2020, Jim Payne, all rights reserved
Helping young people discover the National Cycle Network in Scotland
The new Activities On The National Cycle Network pack allows Beavers, Cubs and Scouts to earn badges by completing activities along traffic-free National Cycle Network routes in Scotland focusing on:
active travel
sustainability
safety
and engineering. 
Alongside inspiring young people to explore their surroundings by walking, wheeling and cycling, the activities encourage Scouts to think about accessibility and inclusivity.
And the pack provides groups with information on small actions they can take to improve their local paths for everyone. 
  
Golden endorsement
The new activity pack has received the seal of approval from Scouts Adventurer Karen Darke MBE, who memorably claimed a gold medal in road cycling at the Rio 2016 Paralympic Games.
I'm so pleased that Sustrans Scotland and Scouts Scotland have got together to help young people get active, learn about safety and sustainability and most importantly have fun. Let's inspire a generation to get out there, learn some great skills and enjoy our beautiful landscapes
Scouts in Fife launch the pack with activities along National Cycle Network Route 76
The activity pack was launched by Scouts from the 83rd Fife Scout group in Culross who had the chance to learn how to perform a bike maintenance check (M-Check).
The young people took part in more activities from the pack during a ride along their local, traffic-free section of National Cycle Network Route 76.
They came up with their own suggestions to encourage more people to walk, wheel and cycle in the area.
Max Watson a Scout from the 83rd Fife Scout Group said:
"It's great to have activities like this because it gets us out in the fresh air and it encourages us to get off our screens and be healthy."
  
Inspiring the next generation to walk, wheel and cycle
Supported by funding from Transport Scotland, the Activities On The National Cycle Network pack was developed by Sustrans Scotland's Network Engagement team in partnership with Scouts Scotland.
Niall Shannon, Network Engagement Manager at Sustrans Scotland said:
"The National Cycle Network is an incredible asset which connects communities across the country, giving people the freedom to make healthier journey choices and providing traffic-free spaces for everyone to enjoy.
"More than half of the UK population lives within a mile of the National Cycle Network.
"As custodians of the Network, we want to reach more of Scotland's young people with the information and opportunities they need to get active and safely explore the amazing green spaces on their doorsteps.
"By partnering with Scouts Scotland to develop this activity pack, we want to inspire more young people to continue walking, wheeling and cycling on the National Cycle Network for their journeys well into the future.
"And we hope that they continue to support and benefit from our work to create a greener, healthier and more prosperous Scotland for everyone."
  
Building on enthusiasm to cycle during lockdown
Available to download for free, the activity books have also been distributed to Scouts groups across Scotland.
Andrew Sharkey, Chief Commissioner, Scouts Scotland added:
"It's great that Scouts Scotland have been able to work with Sustrans Scotland on this activity pack.
"We know loads of our Scouts took up cycling during lockdown so this is a great way to build on that enthusiasm.
"It's also brilliant that it contains ideas about how Scouts can help look after sections of the National Cycle Network local to them and learn about the wildlife that lives there."