Lockdown has inspired more people to explore their local neighbourhood, connect with neighbours, and choose more active ways to get around. In Kilbarchan, a small village in Renfrewshire, local people have demonstrated what can happen when a community comes together to bring about positive action.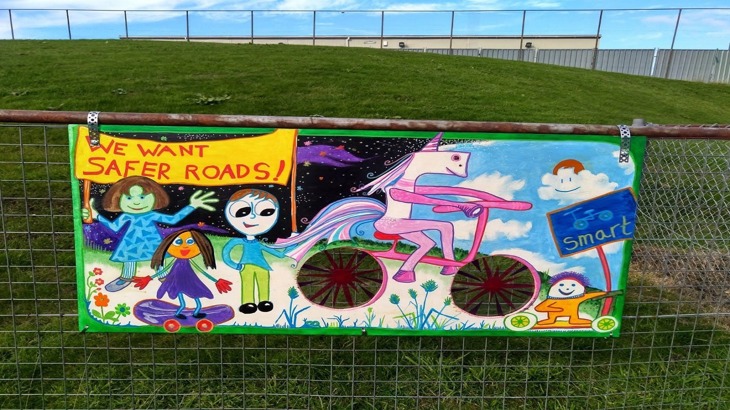 Artwork designed by pupils of Kilbarchan Primary School, and produced by artist Amelia Rowe.
Engaging with the local community
Road safety at Kilbarchan Primary school was identified as an issue back in 2019, with morning drop-off traffic posing a particular risk to children getting to school.
Our Pocket Places programme supported the local community to find simple, quick, temporary solutions to improve the look and feel of their streets.
Following engagement with local residents and feedback on what issues they face, temporary buildouts were installed. These act as temporary pavement extensions and were installed to help highlight the existing informal crossings.
Meanwhile, a colourful street kit helped to prevent pavement parking. And together, they improved visibility around crossing points on the road.
The two-month trial had a positive impact on the way people drove and walked to school.
The success of this has resulted in a more permanent solution being installed next month.
Encouraging more pupils to walk, cycle or scoot to school
Alongside the trial, the Pocket Places team worked with the school to look at ways they could inspire and encourage more pupils to walk, cycle or scoot to school.
A small canopy over a new bench, together with artwork designed by pupils of Kilbarchan Primary and nursery, has been installed to do just that.
Nearly 50 pupils of Kilbarchan Primary and Nursery were asked to draw, paint or sketch what they loved about walking, cycling or scooting to school.
Artist Amelia Rowe then used these drawings to create eight boards that focus on themes of nature and active travel.
Incorporating artwork from each of the drawings, every pupil who contributed should be able to see their work on the school gates.
The canopy, or 'umbrella' as locals are calling it, and bench will also provide shelter and space to rest to make the area more attractive for parents and pupils doing the school run on foot or by cycle.
Local social enterprise, Glasgow Wood Recycling, collaborated on the build of the Pocket Place.
Community action bringing about positive change
Fiona Mackenzie, Head Teacher of Kilbarchan Primary School said:
"Kilbarchan Primary School are truly grateful to have been part of such a positive piece of community action in partnership with Sustrans and our local Community Council.
"The pupils have been involved from the start; identifying and discussing what could be improved, moving on to designing and planning for change, resulting in the finished product of which we are all so proud!
"It is great to see the voices of our whole community coming together to action positive change for all."
It's never been more important to encourage children to walk, cycle or wheel to school and nursery, helping to reduce congestion at the school gates and increase physical activity.
A Sustrans collaboration 
A spokesperson from Kilbarchan Community Council also shared:
"The Community Council have been delighted to work with Sustrans during their Pocket Place Initiative.
"The initiative was all about encouraging our children to think of the different ways we can get to school or nursery making it a safer and more attractive environment.
"Walking, cycling or scooting are depicted in the creative artwork, whilst the canopy and seating area allow for a well-earned rest.
"The Community Council hope that this will encourage our children, parents and carers to consider alternative ways of getting to school and nursery."
An important mission
Rene Lindsay, Sustrans Scotland Senior Urban Designer said: "It's never been more important to encourage children to walk, cycle or wheel to school and nursery, helping to reduce congestion at the school gates and increase physical activity.
"During lockdown, families have spent more time in their local areas. The artwork is really reflective of the children's sense of neighbourhood and community.
"We've been delighted to work with the school, Amelia and the local community to come up with fun, inspiring designs that will brighten up the area and create more enjoyable places to spend time in."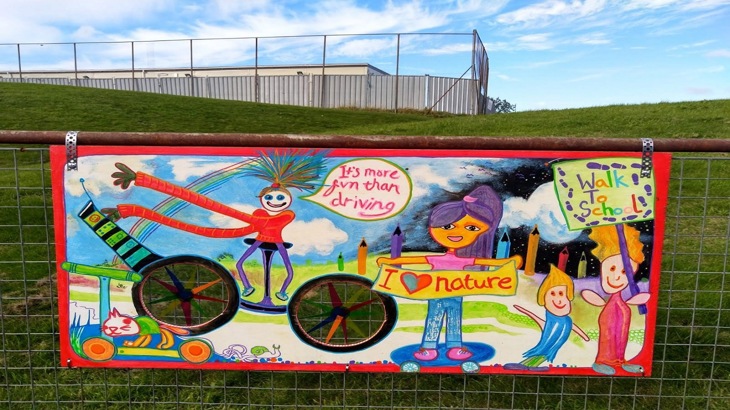 The artwork aims to inspire pupils to walk, cycle and scoot to school.
Temporary changes can lead to permanent solutions
The community have made it clear that tackling congestion and making the school run safe and enjoyable is a priority.
At the start of next month, following the success of the trial earlier in the year, two permanent buildouts will be installed at the school, which will improve safety for children crossing the road on Meadside Avenue.
With changes to streets and the installation of inspiring artwork, it shows that when communities come together, real change can happen.