Three more Southampton schools are set to close their roads to vehicles as part of plans for a safer and healthier school run in November.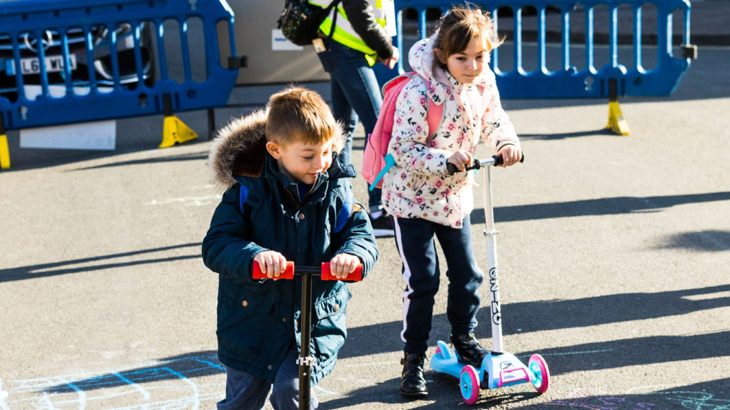 Opening the road outside schools up for people walking, cycling and scooting gives families more space to socially distance.
Shirley Infant School, Freemantle C of E Community Academy and Mansbridge Primary School will all be trialing the 'School Streets' scheme.
They aim to create a safer, greener and more attractive environment for local residents and families on the journey to school.
The scheme will see the roads outside each of the schools temporarily closed at drop off and pick up times. It will be in place on weekdays during term time only.
We're working in partnership with the schools and Southampton City Council for the trials.
  
Providing extra space on the school run
By removing through traffic, the road closures will provide extra space by the schools. This will make social distancing easier outside the school gates.
The scheme will also contribute to a safer, more pleasant environment. This will help encourage greater levels of active travel on the school run.
The initiative forms an important part of Southampton City Council's plans to tackle poor air quality and create a fairer, greener and healthier city.
  
A growing number of schools are getting involved
The three new schools signing up takes the total number of School Streets schemes in Southampton up to six.
There is already a permanent scheme at St John's Primary and Nursery School, and an ongoing trial at St Mary's C of E Primary School.
In September, Shirley Junior School became the first in the city to do so as part of the council's Covid-19 response.
Schemes are also in the pipeline for a further three schools in the city.
  
Vital to reducing congestion in the city
Councillor Steve Leggett, Cabinet Member for Green City and Place, said:
"Congratulations and well done to all of the schools and everyone involved in successfully bringing a further three School Streets schemes to Southampton.
"The school run accounts for a significant portion of traffic on our roads at peak times so schemes like this are vital to reducing congestion across the city.
"By closing the roads outside our schools at drop off and pick up times, we can also give people more space to walk, cycle or scoot to school safely and confidently.
"This will translate into numerous positive benefits for our city's air quality and people's health.
"With social distancing, the need for additional space now has an even bigger significance.
"The School Streets scheme in Southampton will ensure that we can adjust safely to the new norm and recover from the current challenges in a successful, sustainable and innovative way."
  
Creating a cleaner environment outside schools
James Cleeton, Sustrans Director for the South of England, says:
"It's great to see Southampton City Council and these schools embracing School Streets.
"At a time of physical distancing, the space gained by having a road free of vehicles is so important to help families get to school safely.
"Previous School Streets schemes show that making this change creates a cleaner, and more pleasant environment outside the school, as well as improving road safety and air quality.
"This all helps to increase the likelihood that children will walk or cycle to school, instead of being dropped off in a car. This means they get to experience the benefits that active travel brings to their health and wellbeing too."
  
Assessing the impact
Southampton City Council has used Temporary Traffic Regulation Orders to implement these schemes.
This means schemes can be introduced on a temporary basis to assess their impact and effectiveness. A decision can then be taken on whether or not they are made permanent.
Southampton City Council will be closely monitoring the changes, as well as feedback received from the general public.
The council invites local residents, families and businesses to have their say by emailing School.Streets@southampton.gov.uk