Our team has started work to improve accessibility, surface and drainage on the Trans Pennine Trail (TPT) near Doncaster and Barnsley. The work will help make the path much more accessible for everyone, whether they're walking, on a bike, riding a horse, using a wheelchair or pushing a pram.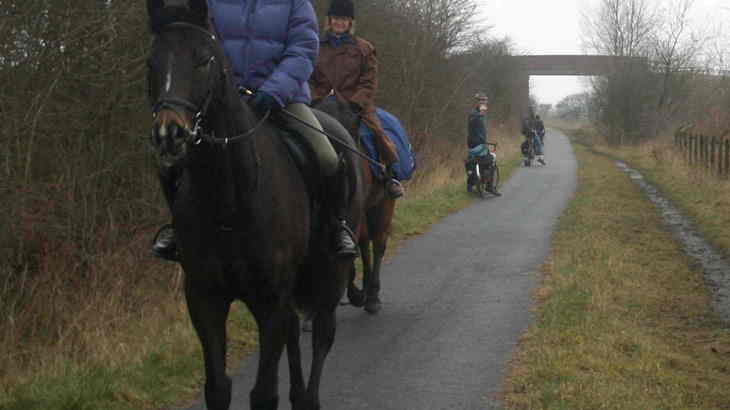 The Trans Pennine Trail runs 215 miles from Southport to Hornsea.
We are working in partnership with Doncaster Council, Barnsley Council and the Trans Pennine Trail, and the project is funded by the Department for Transport.
Can you help?
The upgrades will take place between Bentley Park and Coney Road in Toll Bar, and between Smithywood Lane in Dodworth and Haverlands Lane in Worsbrough.
Sections of the path will close temporarily over the winter months while the work is carried out.
Our team is appealing for volunteers and community groups to help plant wildflowers, pick litter and other tasks as part of efforts to look after these sections of the route in the longer term.
Events in the future
Our Senior Project Officer, Sarah Bradbury said
"This section of the Trans Pennine Trail has been busy since the start of the Covid-19 pandemic. People appreciate their local green space more than ever.
"I welcome anyone who wants to join our group of volunteers to help look after this space, get some fresh air and socialise with other local residents safely.
"We are intending to run events on this section of the TPT when the improvement work has been completed. Final details will be released nearer the time."
A key local asset
Cllr Joe Blackham, Doncaster Council's Cabinet Member for Highways, Street Scene and Trading Services said:
"The Trans Pennine Trail is a key local asset in which increasing numbers of people have come to appreciate during the current coronavirus pandemic.
"This scheme will enhance the stretch between Bentley and Toll Bar so residents can take a walk and use their bike along the trail throughout the year.
"It is one of a number of initiatives we are planning across the borough to improve and create new walking and cycling routes to encourage active travel.
"We always want local people to take pride in where they live and do their bit to look after the areas they use and enjoy.
"One of the most obvious ways people can do this is to put litter in the bins provided or take it home with them. We encourage people to come forward to help Sustrans create and maintain a wonderful trail."
A path for everyone
Cllr Chris Lamb, Barnsley Council's Cabinet Spokesperson for Place (Environment and Transportation) said:
"The Trans Pennine Trail is an absolutely fantastic asset not just for Barnsley but the whole region and country.
"It was the brainchild of our own late Cllr Robin Norbury who fought for many years to realise his dream of using disused railways to enable people to walk and cycle from coast to coast. 
"We're hugely grateful to Sustrans and the Department for Transport for their help and support in improving this busy and highly valued section of the TPT so it can be accessed and enjoyed by everyone."
The Trans Pennine Trail runs 215 miles from Southport to Hornsea.
Find out more and get involved in helping to look after your local section of the Trans Pennine Trail by emailing volunteers-north@sustrans.org.uk