County Fermanagh's first-ever Sustrans Gold School Mark awarded to Jones Memorial Primary School, Enniskillen, as children blaze a trail for their health and the environment.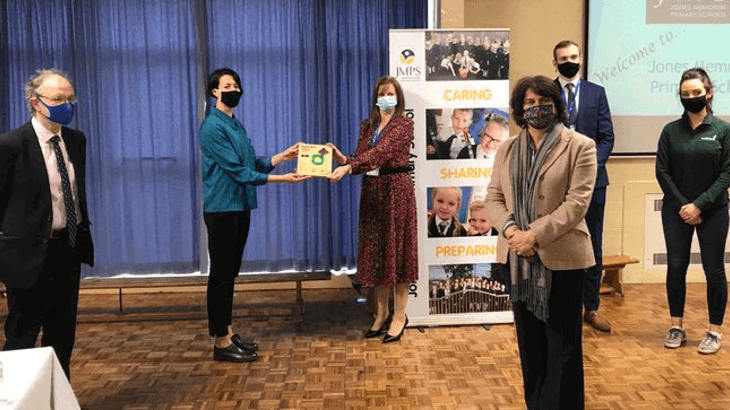 Beth Harding, Sustrans presenting the Gold School Mark Award to Mrs Isherwood, Jones Memorial PS. Pictured with Education Minister Peter Weir, First Minister Arlene Foster, Gareth Barbour, Jones Memorial PS and Ann-Marie Cox, Sustrans.
County Fermanagh's first ever Sustrans Gold School Mark awarded to Jones Memorial Primary School.

The Sustrans Gold School Mark is awarded to a school that has demonstrated an ongoing commitment to promoting active and sustainable travel over several years, which has led to significant and lasting organisational, cultural and behavioural changes.

Jones Memorial Primary have been working towards their Sustrans Gold Award since 2015 as part of their ongoing engagement in the Active School Travel Programme delivered by Sustrans.

Jones Memorial Primary now joins an elite group of 12 schools across Northern Ireland that have received the prestigious Sustrans Gold School Mark.

Speaking at the presentation of the award, DUP Fermanagh and South Tyrone MLA, First Minister Arlene Foster congratulated the school.

"I am delighted that Jones Memorial Primary School have received this award in recognition of the excellent work they are doing," the First Minister said.

It is so important to think about the environment and how we can minimise any detrimental impact upon it. Small steps in changing our behaviours can have a real, positive change. It is wonderful that these pupils have stepped up to making these changes and I know this has far reaching benefits for their own health and wellbeing also.
"I want to congratulate the staff and pupils on this achievement."
Active School Travel Programme
Funded by the Public Health Agency and the Department for Infrastructure, the Sustrans Active School Travel Programme works with over 430 schools across Northern Ireland, helping pupils, families and staff to leave the car behind and take to their feet or two wheels to get to school.

At the end of the 2018-19 school year, the number of children walking, cycling and scooting to school at participating schools increased from 35% to 53%. At the same time, the number of pupils being driven to school fell from 58% to 41%.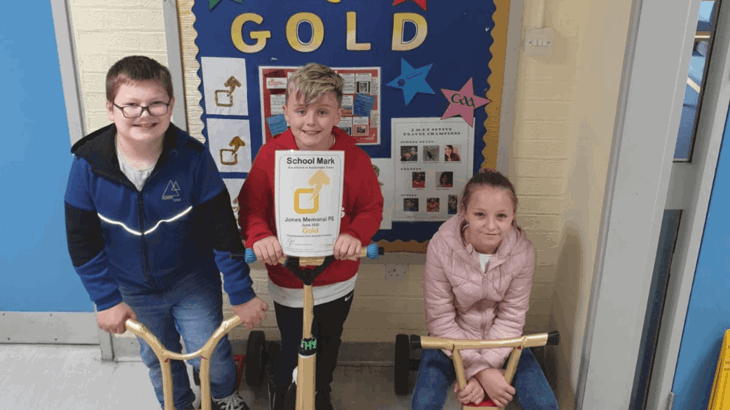 Pupils from Jones Memorial Primary School, Enniskillen
Dedication to Active Travel 
Beth Harding, Active School Travel Manager for Sustrans, said:

"Jones Memorial Primary have gone above and beyond in making active travel an everyday part of school life. Being the first school in County Fermanagh to achieve the Sustrans Gold Award is a fantastic achievement, and it truly shows a dedication to active travel.

"Walking, cycling or scooting to school increases activity levels amongst children, reduces congestion at the school gate, and leads to more enjoyable journeys for families."

Jones Memorial Primary school achieved the prestigious Sustrans Gold award back in June for showing continuous high standards in sustainable travel but were only able to receive the award today due to Covid-19 restrictions. In recent years the school has been working extremely hard with Sustrans to achieve this award and it has been a whole school effort from staff, pupils and the school community.


School thrilled at award
The pupils are delighted with their school's success. Oscar from P6 said:

"I enjoyed completing our organised walks as it was a good chance to get to school with my friends and earn rewards in doing so. I come from a walking family and I love being outdoors, it's a win win for me!"
Starting my day off with a walk is a brilliant way to get ready for my learning
Mrs Isherwood, School Principal said they are all 'thrilled' with the award.
"We have been faithful and enthusiastic about our commitment to the development of the Sustrans Active School Travel Programme throughout the school. Pupils have benefited tremendously from being more active and we have seen a continued rise in numbers with each event that is promoted."