Over 100 free bikes have been given to NHS key workers in Bedford, through Bedford Borough Council.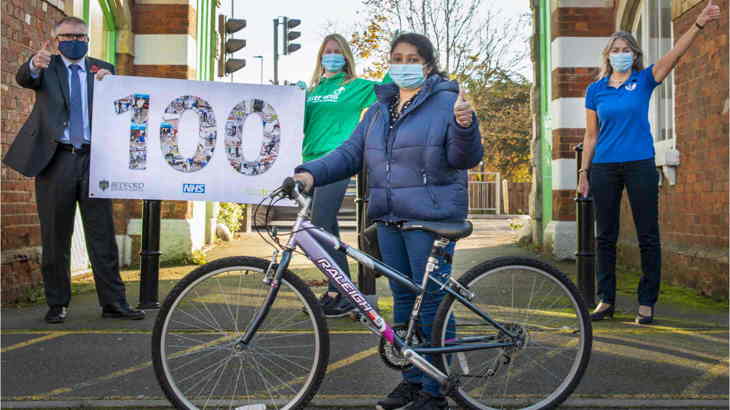 In Bedford, we've now handed over 100 free bikes to NHS key workers, through Bedford Borough Council.
The bikes were donated from numerous different sources including Govia Thameslink and Bedfordshire Police.
Several were also donated through 'Give your bike a new life' events where the Bedford public donated their unused bikes.
A community success
Mechanics and volunteers from Sustrans and Bedford Park Rotary Club worked hard to ensure the bikes were cleaned and repaired and made roadworthy.
Over 25 volunteers, Sustrans staff and Bedford Borough Council staff contributed to the success of the project.
On surveying the recipients it was found that 57% of recipients are now getting more exercise and 43% of recipients said their commute now takes less time.
Team spirit
Commenting on the news Debbie Inskip – Chair of Bedford Hospital Charity and Friends said:
"A truly massive thank you to you for coordinating all this wonderful activity. I think we should all be very proud of everything that has been achieved; being able to give over 80 bikes to the staff at Bedford Hospital is outstanding.
"You all created a great team spirit of which it was a privilege to be a part. So kind of The Rotary Club of Bedford Park to bring their massive expertise to all this, too.
"It is lovely to know that we have made so many staff really happy and proud to have a new bike. Hopefully, they will all want to cycle to work for a long time to come!"
Project to continue with your help
Mayor of Bedford Dave Hodgson said:
"It was great to be at the donation of the 100th bike to Anu, a staff nurse at Bedford Hospital.
"A massive thank you must go to everyone who donated their unwanted bike, and to all the individuals and organisations involved in getting them fixed up and out to key workers in our NHS."
Our Active Travel officer, Chloe Crowther, said:
"It has been wonderful to meet all of the staff at Bedford Hospital who have been working hard throughout lockdown and to be able to reward them with a free bike.
"We've really enjoyed hearing their stories about how the new bike has improved their fitness levels, reduced their commute time and enable them to save money on their commute."
Thanks to funding from Bedford Borough Council, we're hoping to continue with the project but always require more bikes.
Please contact bedford@sustrans.org.uk if you have a bike you no longer use and would like to see it go to a good home.