A popular Leeds waterside cycling and walking path is now being used by keyworkers and for daily exercise by local residents. This comes after our brilliant North of England team carried out much needed resurfacing work.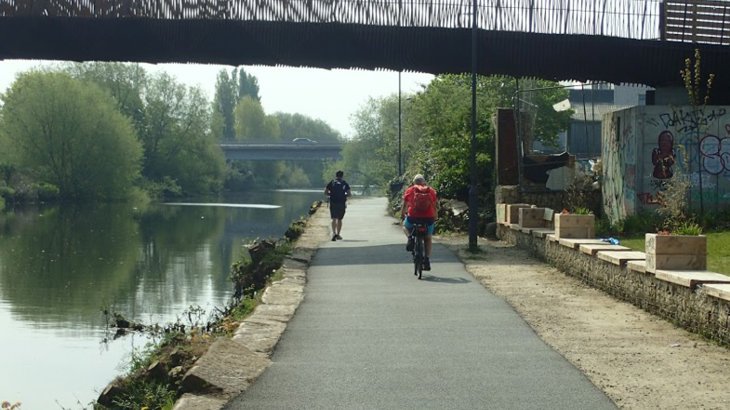 The traffic-free route, which runs from Leeds City Centre to Woodlesford, was damaged by flooding. And it was recently upgraded thanks to funding from Highways England.
How we improved the path
Our team improved three miles of the path with a new all-weather, flood-resistant surface. This now provides a smooth surface for people cycling in from Woodlesford, Rothwell and East Leeds.
The upgraded route has become a popular space for people to walk and cycle while practising social distancing during the lockdown.
Increasing numbers of keyworkers are now also choosing to get on their bikes to travel to work.
The Leeds waterside path
The path runs in two sections along the River Aire and the Aire and Calder Navigation.
It's part of the National Cycle Network and the long-distance Trans Pennine Trail.
It connects to the new Skelton walking and cycling bridge, with links to Temple Newsam and Rothwell.
Funding for the £660,000 project comes from our £3 million funding boost from Highways England to help more people to get on their bikes across the UK.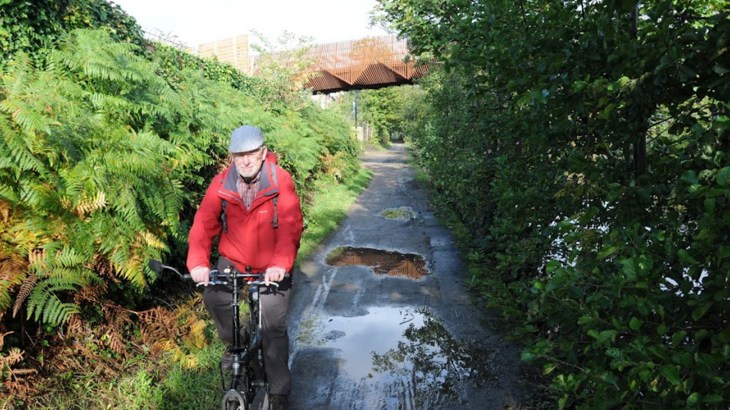 The route's surface before was waterlogged and heavily damaged. It's now smooth and safe for all.
Improving the National Cycle Network across Leeds
We are working with Leeds City Council, Canal and Rivers Trust and the Trans Pennine Trail to help develop and improve the National Cycle Network in Leeds.
The two sections of the path are linked by a stairway at Skelton Grange bridge, which is currently difficult for people on bikes, wheelchairs or families with pushchairs to navigate.
In the long term, we want to redesign this to allow all users to access the route.
Making the route more accessible
Mike Babbitt, our Head of Network Development in the North of England said:
"These sections of the National Cycle Network took a battering from storms in the last couple of years.
"The new surface helps to create a much better experience for all users of the paths along both the river and the canal.
"We welcome keyworkers and local residents to use the new path. But please follow the Government guidelines on social distancing and only exercise alone or with members of your household.
"We are working with partners to try and improve access on the steep stairs at Skelton Grange bridge, which is currently a significant barrier preventing many people from using the full route."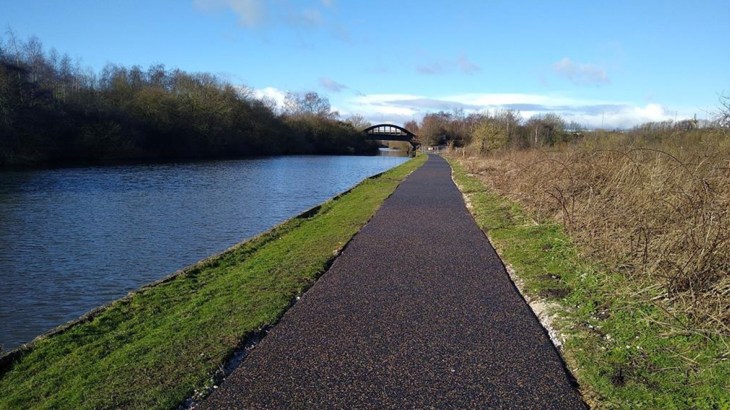 The east side of the route is now a tranquil, safe experience for everyone.
Using the route during lockdown
Les Webb (pictured), Sustrans volunteer on the route said:
"The path is much better quality since the works have been completed.
"It's getting a lot of use since the lockdown, allowing people to get out for daily exercise or travel to essential work.
"It would be fantastic if we could now work towards making the steps at Skelton Grange bridge accessible too."
Improved safety provisions for people cycling in Leeds
Councillor Lisa Mulherin, Leeds City Council's executive member for climate change, transport and sustainable development, said:

"During these difficult times, we're working hard to make cycling an accessible and natural everyday choice for exercising and commuting.

"Leeds is seeing significant changes to improve safety provisions for people who cycle, offering convenience and championing health and wellbeing for Leeds residents.

"This wonderful work from Sustrans, funded by Highways England, will improve environmental sustainability, better air quality and reduce pollution of all types in and around Leeds."
Gillian Ivey, Chair of the Trans Pennine Trail Partnership said:
"This scheme is vital for the local community to once again provide the safe sustainable transport route much needed in this area".
Creating paths for everyone
As part of our Paths for Everyone review we aim to improve and develop the National Cycle Network across the UK.
We want to make a larger traffic-free Network which is safer and more accessible for everyone.
There are over 1,000 miles of National Cycle Route in Yorkshire.
And according to the review, just over half of them were good or very good.