As the lockdown slowly begins to lift, we need safe places to get around, spend time outside, and socialise. Megan Streb, our Partnerships Manager for the Solent area, comments on Southampton City Council's new Green Transport Recovery Plan. She takes a look at how the plan aims to provide better spaces for people after COVID-19.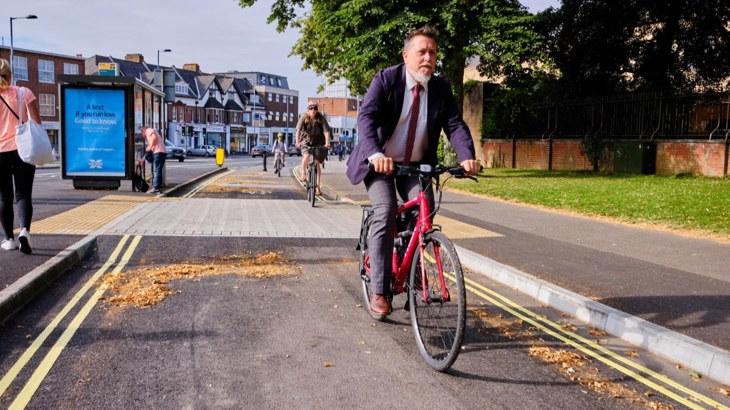 Creating safe spaces to walk and cycle will help people get around Southampton as the lockdown restrictions are lifted
"We welcome the emergency measures being taken by Southampton City Council to make space for people walking and cycling in and around the city. 
"As people return to work, schools, and the high streets, we need safe places to walk, cycle, queue, eat and socialise.
"Southampton's Green Recovery Transport Plan looks differently at the road and pavement space available to people, and should be applauded.
Continuing to provide space for people to physically distance
"We know from our Bike Life report that 61% of Southampton, Eastleigh and Totton residents already cycle or want to start, and over 80% walk at least once a week.
"In their plan, the council sets out measures including widening footways, reducing rat-running, and ensuring cycle routes are provided on key commuter routes.
"This will help the people who have started walking and cycling more often feel confident keeping up that change.
"We hope that many of these schemes will become permanent as we all get used to a new normal post-COVID-19. 
High levels of public support for improved cycling provision
"It is important to note that even before the current crisis, 71% of Southampton area residents supported building more protected on-road cycle lanes, even when this meant less room for other traffic. 
"In addition, 70% wanted more space to walk, cycle and socialise on high streets, and 58% were in favour of removing through traffic on residential roads.  
"People have felt more confident cycling around Southampton with reduced traffic, and the air quality has significantly improved during lockdown.
"By taking these measures, Southampton City Council is working to ensure we don't go back to how things were.
Supporting the green recovery
"The interventions announced by the council are essential to help people in Southampton access work and local shops safely, kick-starting our economic recovery. 
"From the city centre to local shops, key workers and those who will be returning to work in the next weeks and months, we need space to move.
"We congratulate Southampton City Council for these actions that will keep streets safer for people, so residents can continue to choose to walk and cycle."