Our Head of Partnerships for England South, Jon Usher, comments on Bristol City Council's announcement of a package of major transport improvements, to help keep the city moving through the lockdown and beyond.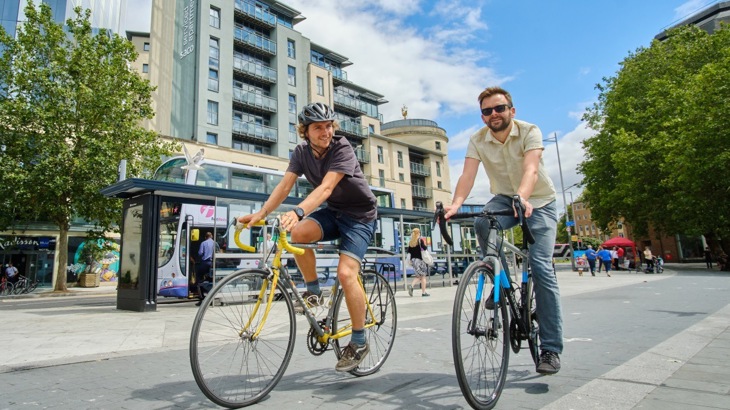 "We welcome the emergency measures being taken by Bristol City Council to make space for people walking and cycling in and around the city. 
"These proposals are unprecedented in scale and ambition in Bristol. The work of officers and leadership from Bristol's Mayor Marvin Rees and Councillor Kye Dudd at this challenging time should be celebrated. 
"To ensure a functioning public transport system for those who need it most as lockdown restrictions are lifted, it is imperative people can continue to get around safely on foot and by bike. 
Increasing safety for walking and cycling in the city
"We know from our Bike Life report that 44% of Bristol residents cite safety as the number one barrier preventing them from cycling or cycling more. 
"The measures announced today will be key to providing the reassurance and safe routes needed to help people move around the city. 
"We hope it will be possible to make them permanent as we all get used to a new normal post-Covid. 
High levels of public support for improved cycling provision
"It is important to note that even before the current crisis, 70% of Bristol's residents supported building more protected on-road cycle lanes, even when this meant less room for other traffic. 
"Since lockdown, we've seen an explosion of people getting back on a bike, or enjoying a #WalkFromHome. It's crucial that we find ways to lock in the benefits we've experienced over the past eight weeks of cleaner air. 
"This will put Bristol on the road to meeting its climate emergency targets. 
The shoots of a green recovery in the West of England
"The interventions announced today are essential to help people access work and local shops safely, kick-starting our economic recovery. 
"With the positive statement too from Mayor Tim Bowles about active travel, we're starting to see the shoots of a green recovery in the West of England. 
"We congratulate Bristol City Council for these actions that will help people to leave the car at home."