Conan Shivers, a pupil at St Mary's PS Draperstown designs a cycle jersey with a very powerful message for the latest in a series of weekly home activities from Sustrans Active School Travel Programme.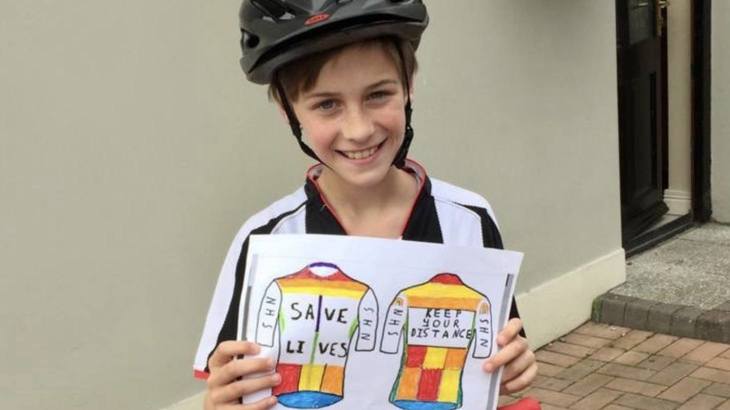 Conan Shivers with his cycling jersey design, an activity set by schools officer Ronan McLaughlin for pupils during lockdown
Our Northern Ireland school's team have taken to YouTube to ensure the schools, pupils and families on the Active School Travel Programme can keep active during lockdown. 
Each week the team have been creating a new activity and sharing it through YouTube to over 600 schools across Northern Ireland.
Ronan McLaughlin, Active Travel Officer for the North West shared an activity with schools encouraging their pupils to design a jersey for their school.
The brief was simple; use the template provided and imagine your school has a cycling club and with any combination of school colours, crest, local landmarks and your imagination, create a cycling jersey for your school.
St Mary's PS of Draperstown picked up the activity and as they do every week, shared the resource with families at home.
This was all the inspiration P7 pupil Conan Shivers needed.
Conan set about designing a jersey with quite a powerful message simultaneously supporting the NHS front line staff and spreading the important message "Save lives" "Keep your distance".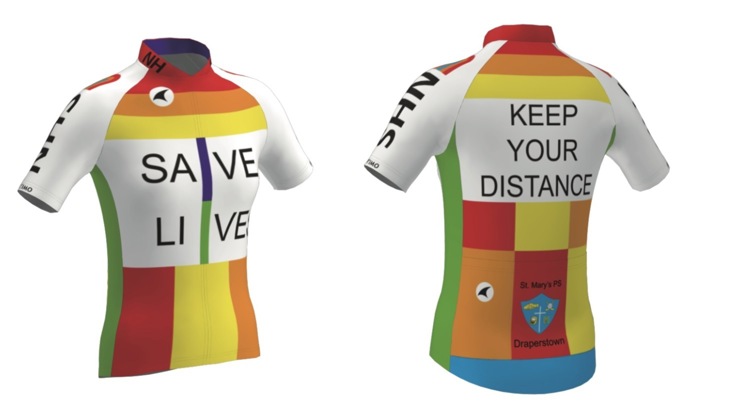 Cycling jersey designed by Pactimo for St Mary's PS
When Conan submitted his design to the school P7 teacher Mr Brunton immediately recognised the design brilliance and importance of the message.
So he took to Twitter to share Conan's powerful jersey.
Within minutes this tweet was being retweeted by Draperstown locals and cyclists the length and breadth of Europe alike.
Some famous names of cycling such as Eurosport presenter Orla Chennaoui, who just happens to be a former pupil of St Marys PS, and former Tour De France cyclist Daniel Lloyd.
Within hours clothing companies where queuing up to produce the jersey for Conan and talks of charity fund raising campaigns began to circle.
The jersey is now in production and will be on its way to Conan in the very near future.
Ronan's Sustrans challenge is a valued addition to our home learning timetable each week. The tasks are always well received. We've showcased some fabulous footage of the home Olympics and creative jersey designs. One design in particular sent the cycling community in Europe and beyond into a frenzy on Twitter. The focus of the banter was a clever design by Conan Shivers P.7. featuring the slogans "Save Lives" "Keep your distance". A young Parisian blogger brought the design to life in a matter of hours which added to the excitement.
Mrs Coyle Principal at St Mary's said:
"We thank Ronan for his work, not just during lockdown, but all through the year.
"His contribution this year has been tremendous.  We are thoroughly enjoying our involvement with Sustrans and our families are benefiting greatly in many ways."
Conan's family took to Twitter to communicate Conan's delight at the news that his design will be coming to life and to thank everyone for sharing his design near and far.
Sustrans Active Travel Officer, Ronan McLaughlin said:
"It is amazing to see the response Conan's fantastic design has received.
"The jersey message is so powerful and the response it has gotten on twitter has been phenomenal.
"Credit must go to St Mary's PS also who, despite being new to the Active School Travel Programme for 2019-20, has been incredibly active in promoting active travel events prior to the current crisis.
"Now with home-learning, they have kept up this great work and have shared each and every one of the activities I have sent their way and their Twitter feeds and newsletters have been full of photos of families at home enjoying the Sustrans activities."
There are lots of Sustrans online resources available, packed full of challenges, games and cycling, walking and scooting themed activities.