Encouraging people to walk and cycle is more urgent than ever given the climate and health crisis we live in. This was the message at Sustrans Volunteer Awards celebrated this week in north Belfast. Volunteers are essential to promoting the work of the walking and cycling charity.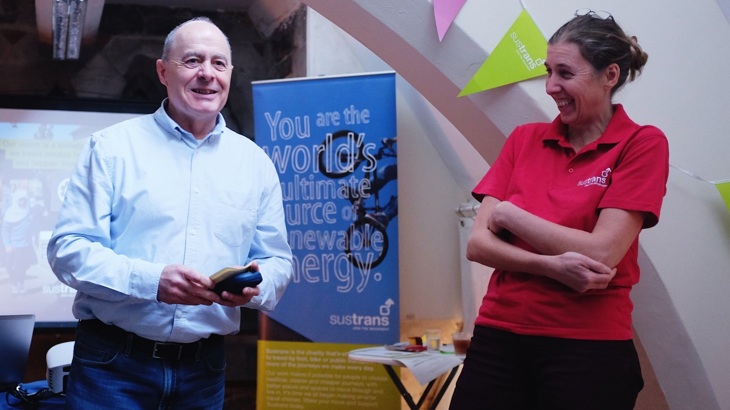 "Our time is now" - were the words of a Sustrans volunteer as they celebrated their Volunteer Awards in The Duncairn Centre for Culture and Arts this week. 
John Lucas 'rolled away' with Sustrans' Volunteer of the Year Award for Northern Ireland for his support towards individuals taking part in group led rides and activities on the greenways.
Award winner, John Lucas said: "The volunteer award day was excellent, it was particularly pleasing for me as I got the volunteer award and it is always satisfying to have your contribution recognised, but it was also a great opportunity to catch up with other Sustrans volunteers and staff."
Sustrans Volunteer Co-ordinator, Rachael Ludlow-Williams congratulating the winner said: "John has been extremely warm and welcoming to people returning to cycling and given them additional support which really helps them to get back to cycling regularly.
"John has supported staff in organising led rides which are open to everyone, giving confidence to those taking part, and encouraging more people to cycle.
"John has also helped to maintain the signage on NCN route 9, the Lagan Towpath."

Long-standing volunteers Aparna Jamgade and Robert Ashby were also recognised for their many years of contribution to the charity.
The Sustrans Volunteer Group Award went to the Active Travel Hub group which included Jane Bryson, Janet Dunn, David Ferguson, Hazel Patterson and Malcolm Robinson.
Sustrans also awarded a Certificate of Appreciation to the Active Travel Hub volunteer group. These volunteers are people ready to help out at the great variety of events offered free at CS Lewis Square, East Belfast. 
These range from led rides and walks to spin art bike, fayres and bike maintenance, encouraging people to come to the hub, find out about the best cycle routes for daily journeys and be the warm happy face of Sustrans. 
"These volunteers are a special group who always make me smile and whose help has been integral to keeping the Hub activities available to as many people as possible," said Martha, Sustrans officer based at the Active Travel Hub.
"They are busy people who have always been happy to give their time and kindness to those who are involved in our activities.
"We are recognising them today because of their kindness in helping others, and their warmth and enthusiasm towards the public at events."