In order to inspire school communities to transform their travel habits, Sustrans runs an annual initiative called Feet First Families. On Friday 13 March 2020, pupils from schools across Northern Ireland made their school a 'car-free zone', and encouraged families to use their feet first to walk, scoot or cycle to school.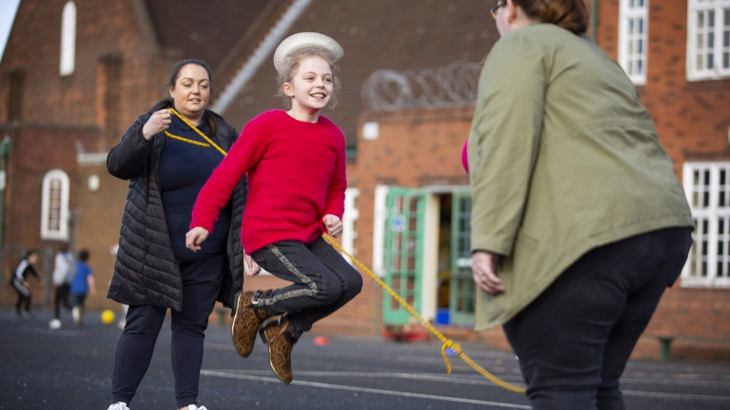 Did you know that most children in Northern Ireland want to walk, cycle or scoot to school but less than half actually do?
Despite the fact that more than fifty per cent of primary school-children live within a very walkable mile to school, over two thirds (67%) are driven to/from the school-gates.
In fact, one in five cars during the rush hour are doing the school-run adding to air pollution and congestion which makes the school journey more hazardous.
Putting your feet first
On Friday 13 March, pupils from schools across Northern Ireland made their school a 'car-free zone'.
With school car parks closed for the day, pupils reclaimed the space in all kinds of creative and fun ways, including parties in the parking lot.
Some schools held 'bling your bike' events, jumble sales, coffee stands or simply turned their car parks into an extended playground.
There were also led walks and walking buses to encourage children to travel actively to school.
Sustrans Active School Travel Manager, Beth Harding said:
"Feet First Families is an opportunity for schools to see what it would be like if we all travelled actively to school.
"So much of the space around our schools is dedicated to car parking and why should that be the case? This is a fun way to re-use the space that becomes available when families and staff travel actively to school."
Encouraging more families to enjoy an active school run
The Feet First Families Initiative is a one-day event but with the long-term aim of changing travel habits.
It is part of our award-winning Active School Travel Programme, funded jointly by the Department for Infrastructure and the Public Health Agency, which encourages school-children to walk, scoot and cycle to school.
Dr Hannah Dearie, from the Public Health Agency said:
"We are delighted to support children and their families to actively travel to school to increase their physical activity and improve their overall health and wellbeing.
"Feet First Families is a fun day to highlight the benefits of actively travelling to school by showing children, parents and the wider community how easy it can be to walk, cycle or scoot to school."
Improving active travel in Northern Ireland
Sustrans is currently working with more than 400 schools, both primary and post-primary, across Northern Ireland to promote active travel on the school run and it has seen great results.
In the schools where we have worked in 2018-19, the number of children walking, cycling and scooting to school rose from 35% to 53%.
With a corresponding fall in those driven to school – down from 58% to 41%.
We are recruiting schools for the Active School Travel Programme starting in the new academic year in September.
This programme works with schools throughout the year to transform travel habits to greener, healthier journeys.