We're excited that this is the first time a London borough has been part of Bike Life. London is a growing city of huge opportunity. So we have to think about how people get around London. Cycling and walking more are part of creating a more efficient, happier, healthier city.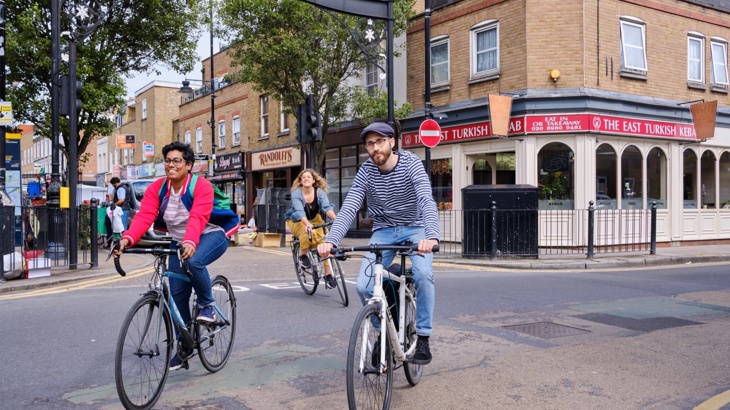 Data shows social divide when it comes to cycling
Bike Life Tower Hamlets reveals people's attitudes towards cycling in this diverse part of east London. And there is a social divide when it comes to choosing to cycle.
We asked more than 1,100 Tower Hamlets residents about their cycling habits, satisfaction and the impact of cycling. Here's an overview of what they told us:
91% of residents who are not in employment or in semi-skilled and unskilled occupations (c.60,000 adults) in Tower Hamlets never cycle. They're also the least likely to own a car – making it harder for them to access services and employment opportunities.
Residents less likely to cycle regularly also include women, people aged 46+, people from ethnic minorities, and disabled people.
Safety concerns stop cycling being a genuine travel choice – only half of Tower Hamlets residents think cycle safety is good (52%).
53% of residents would like more traffic-free cycle routes.
Make roads feel safe and attractive for cycling
More needs to be done to reduce everyday car journeys, make it feel safer to cycle and increase secure bike storage. Bike Life shows that policies to bring about these changes would make cycling a more viable transport choice for many Tower Hamlets residents, particularly those who are not in employment or in semi-skilled and unskilled occupations.
Supporting a broader range of people to cycle
A safer cycling environment would also support more women, disabled people and people from ethnic minorities to cycle their everyday journeys.
Bold government policies could create a fairer London
We're calling for the government at all levels to be bold in their policies to increase cycling and create a fairer place where access to services, green spaces and employment is available to everyone.    
Bike Life found that, of the people in Tower Hamlets with semi-skilled and manual jobs and people not in employment, only 6% cycled at least once a week and only 36% owned a car.
This can make it harder for them to reach everyday services around the city. However, 13% of this group in Tower Hamlets wanted to start cycling, equal to 8,600 adults.
The main barriers that stop residents from these groups from cycling are concerns about safety (37%), closely followed by the opinion that cycling is not for people like them (33%).
The Bike Life results echo data in TfL's Travel in London report, which found that, across the capital, most people who cycle tend to be male, white, in employment and with relatively high household incomes. This can put off other people from cycling.
Making Tower Hamlets the most cycle-friendly borough
Mayor of Tower Hamlets, John Biggs said:
"We want to make Tower Hamlets one of the most cycle-friendly boroughs in London.
"We've worked in partnership with Sustrans on this report which contains valuable data to help us shape our policies to achieve this.
"It shows there are particular groups where take-up is lower including those on lower incomes, women and people from ethnic minority backgrounds.
"Cycling is a relatively cheap and quick way of getting around as well as reducing carbon emissions and improving our air quality.
"We know people have to feel safe while cycling on our streets and are working with Transport for London on developing new cycle routes as well as investing in safer roads through our Liveable Streets programme so residents can get on two wheels to get around."
Making cycling more accessible in London
Mayor of London's Walking and Cycling Commissioner Will Norman said:
"This report shows why we are working hard to make cycling more accessible to everyone across London.
"Cycling is a cheap and healthy way to travel around the capital, while at the same time helping to tackle poor air quality and addressing the climate emergency.
"Our growing network of cycleways is enabling more Londoners of all backgrounds and abilities to cycle safely and with confidence. We look forward to working with Tower Hamlets Council to further expand the network in this part of the city."
Cycling has the potential to help create a more equal society
Sustrans England Director Matt Winfield said:
"Our data shows the enormous gap that women, people from ethnic minorities and lower-income households face in their transport choices.
"Much more has to be done to make it easy for everyone to get about by bike. It simply isn't fair for anyone to feel excluded due to worries about safety and facilities.
"Now, the people of Tower Hamlets have told us that feeling safe is a vital part of helping them choose to cycle.
"Cycling has the potential to reduce social and economic isolation. It could help people in less well-off areas access greater employment opportunities, healthcare and other everyday services.
"In London, it's possible to cycle around four miles in 25 minutes. That's Mile End Station to St Paul's Cathedral.
"Cycling provides an option for most urban journeys but only if we make it safe and attractive to people. Bike Life results show that in Tower Hamlets, like in other UK cities, many people perceive cycling to be unsafe. But we know they usually find their journey is quicker, better and they feel healthier.
"So if cycling can do all this and has the potential to create a more equal society, it is absolutely critical that government at every level enables the ambitious cycling revolution we all need to make our towns and cities happier and healthier places to be."