Sustrans' Bike Life report has revealed that 61% of residents in the Southampton City Region already cycle or want to start. But 75% agree that cycling safety in the area needs to be improved.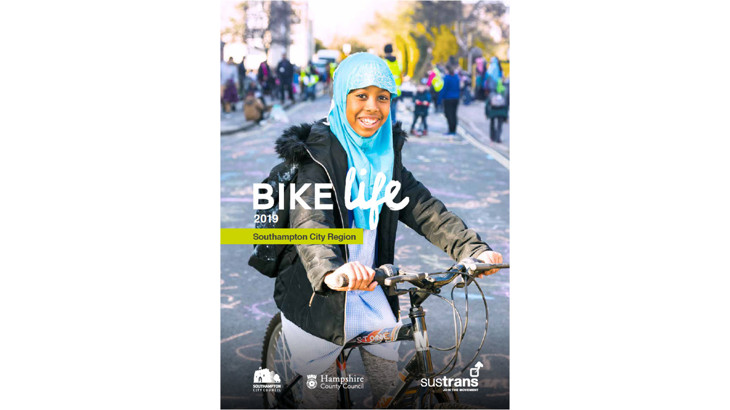 Bike Life, the UK's biggest assessment of cycling in major cities and urban areas, surveyed 1,232 residents in the Southampton City Region
Residents want to see more investment in cycling, particularly in building more cycle lanes that are protected from both motor traffic and pedestrians
The report, the first of its kind in Southampton, also found that over 70% of residents support building more protected on-road cycle tracks, even when this would mean less room for other road traffic.
A representative sample of more than 1,200 residents in Southampton, Eastleigh Borough, and Totton (the Southampton City Region) were surveyed to find out more about their cycling habits, satisfaction, and the impact of cycling in the city.
At the start of 2019, Southampton had just three miles of cycle tracks along roads physically separated from traffic and pedestrians.  
Bike Life shows that there is a clear demand for the area to become more cycle-friendly: 61% of those surveyed said that more cycling would make their area a better place to live and work. And 70% think space should be increased for people socialising, cycling and walking on their local high street. 
Although the perception is often that cycling is being used by enthusiasts commuting to work or wearing lycra cycling in the countryside, the survey showed a broad range of people cycling, with a third of cycle trips for shopping, personal business and social reasons.
Southampton City Council and Hampshire County Council have recently bid to the Department for Transport Transforming Cities Fund for further funding. If the bid is successful, it will accelerate the delivery of the Southampton Cycle Network (SCN).
Megan Streb, Sustrans Partnerships Manager for the Solent region, said:
"The message from the Bike Life survey is absolutely clear: Southampton residents want to cycle more, but want to feel safe doing so.
"Southampton City Council and Hampshire County Council can rest assured that they have the backing of the public to build on the work they have already started to enable people to choose healthy, clean and cheap journeys by getting on a bike, reducing congestion as they do so."
Councillor Jacqui Rayment, Cabinet Member for Place and Transport and Deputy Leader and Southampton City Council said: "We have bold ambitions for Southampton – to reduce air pollution, ease congestion that would otherwise hamper growth, and improve the health of people living, working and visiting Southampton. 
"Our Green City Charter, launched in June 2019, and the Hampshire Climate Emergency, demonstrate our commitment for Southampton to be carbon neutral by 2030 and are key for an inclusive and thriving place. Making cycling something people do daily supports all of this. The Sustrans Bike Life report gives us the confidence that residents travelling in and around the Southampton City Region want and support this."
The health, social and economic benefits of cycling for everyday journeys are clear. Bike Life calculated that 18.2 million trips were made by bike in the Southampton City Region in the past year, equating to a £28.8 million benefit to the city based on aspects such as vehicle costs, health, travel time and congestion.
Run by Sustrans in partnership with Southampton City Council and Hampshire County Council, Bike Life is part of a wider piece of research by Sustrans covering 17 cities across the UK over years. It assesses cycling development, attitudes and behaviour in each city.