A colourful pedestrian crossing, games and a mini allotment transformed Ostman road outside Carr Junior School in York this week (10 March), as part of a temporary trial for one day. The new street designs were developed by children to make their street safer and healthier as part of our new project with the City of York Council.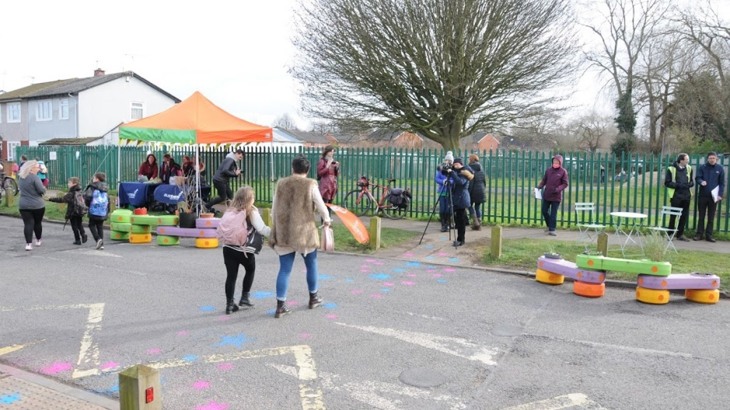 Our team held a street party at the school for the local community to try out the new-look street and give their views. The designs include a star-themed pedestrian crossing, an allotment outside the school gate and parking restrictions. Our colourful 'street kit' bollards and planters formed the temporary barriers for the closure.
Carr Junior School has high levels of traffic congestion and road safety issues around peak times when parents drop off and pick up their children at school. There have been a number of 'near misses' and the local community want to improve conditions for everyone.
Pupils worked with our schools officer to survey the streets around their school. They highlighted problems such as dangerous junctions and crossing points, pavement parking, noise levels and air quality, and what they would like to change to help more of them walk or cycle their school journeys.
Our street designers gathered ideas and views from the school, parents and local community to help create the trial design. The new layout and features aim to tackle problems on the street and make it a safer, more pleasant place for everyone.
Headteacher Vicki Kerr said: "We are very concerned about the safety of our children when getting to and from school.
"There is currently not a safe place to cross and the number of parked cars at peak times make the road even more dangerous.
"It is great that the children and local community get to have their say in this important issue and hopefully prevent anyone being hurt in the future."
Our Street Designer Nafsika Michail said: "It has been a great experience to work with Year Five children in Carr Junior School and understand what children want to see outside their school.
"The children's drawings and feedback received from the local community reflect the idea of a safer and more pleasant streetscape for people.
"We worked with comments from children and the local community to create a design that aims to improve social cohesion and street safety of Ostman Road."
Cllr Andy D'Agorne, executive member for transport at City of York Council, said: "I'm delighted that Carr Junior School is considering with the council and Sustrans what would help more pupils walk or cycle their school journeys, and we will be happy to do so with other schools.
"Besides making streets safer and healthier places, more active travel to school is shown to improve children's levels of concentration during the day, as well as benefiting their mental health and road safety skills."