The UK's most comprehensive assessment of cycling in cities, Bike Life, has revealed that four out of five people in Dundee (79%) think that more cycle tracks physically separated from traffic would help them to cycle more.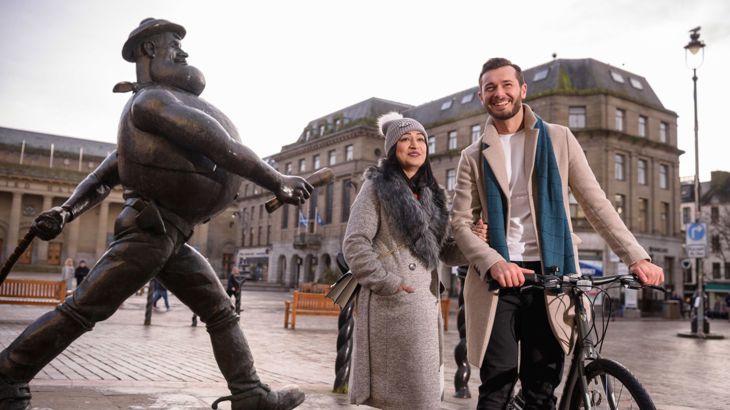 People walking and cycling in Dundee city centre
The report, the first of its kind in Dundee, also found that cycling was seen as the least safe way of travelling around the city with 68% of residents thinking that cycling safety needed to be improved.
Run by Sustrans Scotland in partnership with Dundee City Council, Bike Life is part of a wider piece of research by Sustrans covering 17 cities across the UK and Ireland, assessing cycling development, attitudes and behaviour in each city.
A representative sample of 1,339 residents in Dundee were interviewed to find out more about their cycling habits, satisfaction, and the impact of cycling in the city.
Currently, Dundee has 0.1 mile of cycle track physically separated from traffic and pedestrians.
But, despite concerns over safety, 57% of residents agree that more people riding bikes would make the city a better place to live and work whilst more than three quarters (77%) of Dundee residents think space should be increased for people socialising, cycling and walking on their local high street.
Currently only 11% of residents cycle at least once a week however the health, social and economic benefits are clear.  Bike Life calculated that 3.1 million trips were cycled in Dundee in the past year. Every day 2,400 return cycle trips are made by people that could have used a car, equating to a £4.5 million annual benefit to the city based on aspects such as vehicle costs, medical costs and work absenteeism, travel time and congestion.
Commenting, Sustrans Scotland Head of Partnerships Kirsty Rankin, said:
"The message from the Dundee Bike Life survey is absolutely clear: residents want to see more people choosing to travel by bike.
"Dundee City Council can rest assured that they have the backing of the public to build on the work they have already started to enable people to choose healthy, clean and cheap journeys by getting on a bike."
Mark Flynn, Deputy Convener of Dundee City Council's City Development Committee said: Dundee City Council is dedicated and committed to ensuring that the infrastructure cyclists need continues to develop and grow.
"The creation of clear, well-defined routes for cyclists is an issue we have had in our sights as part of keeping a multi-modal Dundee moving and I am pleased to see that our level of innovation and ambition are welcomed in the report."