We have signed to an open letter issued yesterday by leading health and transport experts urging the UK Government to make individual walking and cycling easier amid the Covid-19 Coronavirus outbreak.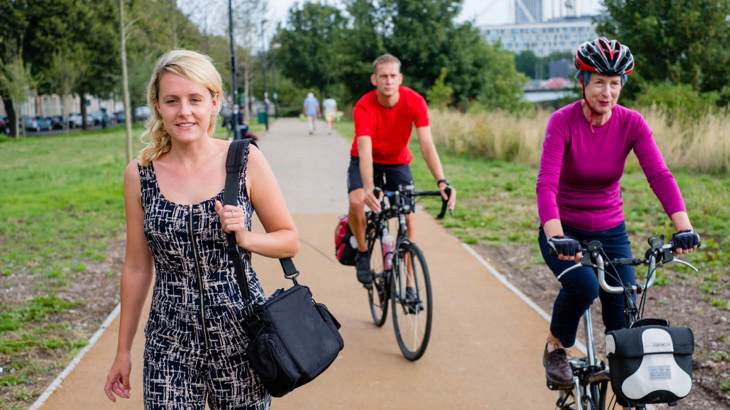 Sustrans takes the health and wellbeing of our staff, volunteers, supporters and communities we work with very seriously.
We're currently following Government and NHS guidance closely.
We recognise the importance of social distancing, with a particular need to protect the most vulnerable, those aged 70 or over, people with an underlying health condition, and those who are pregnant.
Social distancing will make many activities that we take for granted impossible.
Walking and cycling, however, can be compatible with social distancing, if people are responsible. Transmission risks will be very low if people stay 2-3 metres apart.
For shopping, and for those who still need to commute, walking and cycling should be supported.
Walking and cycling is also good for mental as well as physical health.
Physical activity, including regular walking and cycling, reduces the risk of cardiovascular diseases, several cancers, dementia, diabetes, as well as depression and anxiety.
These conditions affect millions of people, and some increase the risk of a serious outcome if one contracts Covid-19.
Decision-makers should protect the right to walk and cycle safely (from the risk of infection and traffic injury) for those who are not showing symptoms.
This should involve ensuring emergency infrastructure, such as bollards and better lighting to make cycling and walking safer for travel to work and shops.
The government should publish evidence-based guidance for people walking and cycling on reducing risk, including ensuring social distancing.