We're working in partnership with East Sussex County Council to provide free loan cycles to key workers in the East Sussex region.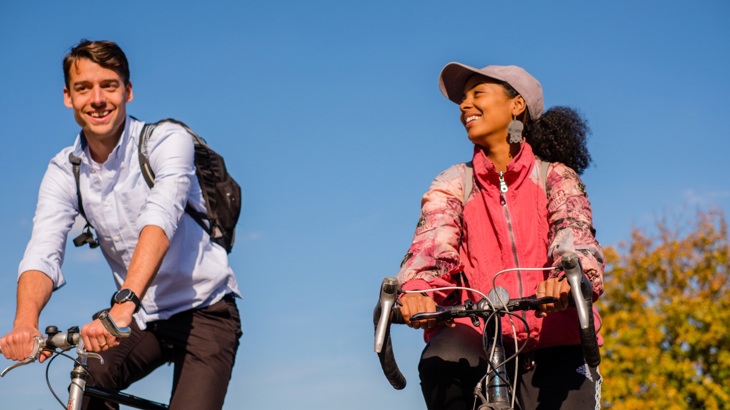 Cycling offers key workers an active and sustainable alternative to travelling by car
Over 60 cycles will be offered on a free loan basis for three months, with potential to renew after the initial period.
The cycles are available for loan from the East Sussex County Council Peacehaven Cycle Hub and Eastbourne Cycle Centre. The loan includes a new helmet and lock for each user.
Sustainable travel during the Covid-19 crisis
With the Government asking the public to avoid public transport where possible during the easing of Covid-19 lockdown restrictions, this scheme offers keyworkers an active and sustainable alternative to travelling by car.
Helen Kellar, Sustrans' Delivery Coordinator, said:
"We're all so impressed with the dedication and hard work of all key workers during this crisis. We wanted to offer something in return.
"We have a good fleet of bikes, which are not being used due to the lockdown.
"So we are delighted to offer these bikes on loan to any key worker who would like a safe and healthy way of getting to and from work.
"Recent government advice encourages workers to avoid public transport and to cycle and walk whenever possible. And local councils are rapidly installing new cycle lanes.
"We're at an exciting crossroad and have a once in a generation opportunity to deliver a lasting transformative change in how we make short journeys in our towns and cities."
An opportunity to say thank you to key workers
A spokesperson from East Sussex County Council said:
"This is an ideal opportunity for us to give something back to these extremely hardworking key workers that we are all so proud of.
"If we can make their journeys to work easier and safer I am proud to be part of this project."
The project is part of East Sussex County Council's Active Access for Growth, which aims to encourage behavioural change by promoting active travel to local schools and workplaces.
The free bike loan scheme launched this week.