Sustrans Cymru Interim Deputy Director, Neil Canham, talks about the importance of Transform Cymru's work during the current public health crisis and the real opportunity to reset Welsh transport.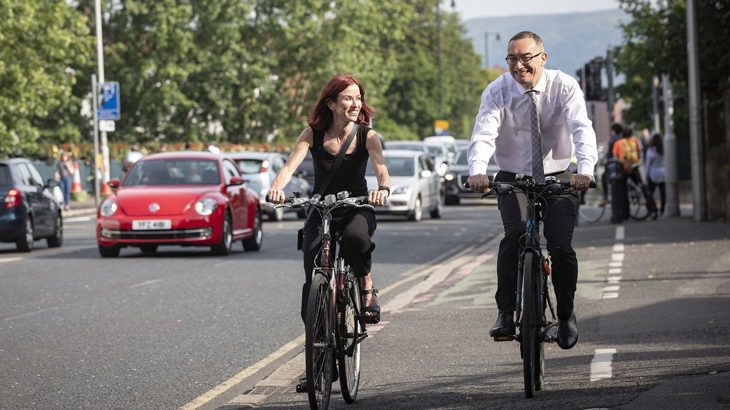 Walking, cycling and public transport networks should be accessible for everyone, regardless of their physical ability, ethnicity, age or affluence.
During the Covid-19 pandemic we've seen a disparity in who can access different modes of transport.
This unfair situation comes down to people's economic circumstances, where you live, whether you have access to a car and how able you are travel actively.  
Now more than ever, we need a transport network that works for all, keeps people safe and helps Wales thrive.


Proud members of Transform Cymru 
For this reason, Sustrans Cymru is proud to be a member of Transform Cymru.
As a coalition, we are working to create a sustainable, affordable, inclusive and safe transport network for Wales which meets the needs of all passengers regardless of background or ability.
There is a great risk that the Covid-19 pandemic will increase our reliance on the car.
Public transport is facing challenges like never before and whilst active travel can be a solution for local journeys, many people in society don't have the ability to walk or cycle.
Working with Welsh Government to help create an integrated travel network for Wales has therefore never been so important.


Working together
By joining forces with like-minded organisations from the sector, Transform Cymru are able to share and access a wide range of intelligence, support and networks from across the field of sustainable transport.
The coalition provides an important insight into all aspects of sustainable transport policy and practice.
There is currently a significant concern that low confidence in public transport will lead to an increase in private vehicle use as the economy begins to reopen, with undesirable consequences of increased congestion and poorer air quality.
However, the dramatic change to everyday life has also presented a reset point and clearly demonstrated that we have the opportunity to bring about lasting change in a way we could not have imagined a few months ago.


Using the opportunity to reset
Whilst the Covid-19 pandemic has caused significant challenges for the transport sector, we must use this opportunity to reset the way we travel in Wales.
This coalition offers a collective view on public transport and active travel, and it's only with this collective view that we can all hope to make a difference.
Our work at Transform Cymru will see us joining the dots between transport networks across Wales and help contribute to a society where the way we travel creates healthier places and happier lives for everyone.