Today we launch our Bike Life Dublin Metropolitan Area report. 84% of Dubliners want more kerb-separated cycle tracks even if it means less room for other traffic. Find out more about the report and our findings.
Cycling in the Dublin Metropolitan Area takes up to 60,000 cars off the road every day, according to new research in the 'Bike Life' report published in partnership with Sustrans and the National Transport Authority.
The report was launched in Dublin today by Minister for Transport Eamon Ryan and Minister of State Hildegarde Naughton.
Bike Life found that improved cycling infrastructure in the Dublin Metropolitan Area would enable up to 350,000 people to travel from their homes to the O'Connell Bridge in less than 25 minutes, giving them increased mobility and access to the city centre.
We need more safe space for cycling
84% of surveyed residents support building more kerb-separated on-road cycle lanes, even if this means less room for motor vehicles.
This is a positive indication that the people of Dublin are supportive of cycling in general and of the measures needed to make it an integral part of transport in our society.
Nearly a quarter of adults cycle at least once a week in the Dublin Metropolitan Area, including 11% who cycle five days a week or more.
The report found there is an appetite for cycling but not the safe space for a significant number of people cycling across the city.

What is Bike Life?
The Bike Life survey, the biggest assessment of cycling in urban areas in Ireland and the UK, is produced by sustainable transport charity Sustrans in partnership with city authorities.
This is the first report outside of the UK and in partnership with the National Transport Authority (NTA) of Ireland.
The information in the report comes from local cycling data, modelling and an independent, demographically representative survey of more than 1,100 residents from across the Dublin Metropolitan Area, whether they cycled or not.
It has become even more evident in recent weeks that there is a growing need for more dedicated cycling infrastructure, with cities across the world reallocating space to facilitate safe cycling and walking during the Covid-19 crisis.

More cycling makes Dublin a better place to live
In the Bike Life report, 78% of Dublin Metropolitan Area residents believe that more cycling would make their area a better place to live and work.
And 82% agree that space for people socialising, cycling and walking on their local main street should be increased.
The benefits to the Dublin area are also outlined in the report, with the physical activity benefits of cycling preventing 52 early deaths annually which is valued at €263million.
But there is even greater potential for Dublin to become a true European cycling city.
Our report found that 21% of residents saying they don't currently cycle but would like to. And 33% highlighting safety as the primary concern for why they do not cycle or cycle less often. 

Supporting cycling and walking during Covid-19
National Transport Authority CEO Anne Graham said:
"From a sustainability and health point of view, you can't beat cycling.
"That is why at the NTA, we always are working to improve cycling infrastructure across Ireland, including:
our bike-share schemes
planned cycle lane improvements through our BusConnects project
and investment in new cycling bridges and lanes, like the one on Dublin's North Wall Quay that opened last year.
"More recently, we have provided financial support to local authorities including Dublin City Council to improve facilities for pedestrians and cyclists in response to the COVID crisis in places like Grangegorman, Rathmines and Nassau St."
We welcome the findings in the Bike Life report, and we look forward to the opportunity it provides us to grow and improve our cycling facilities, both in the Dublin Metropolitan Area and in the whole of Ireland.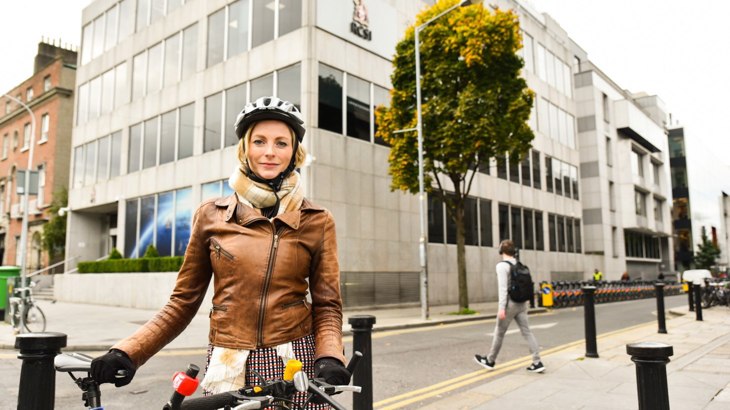 Bridget Kiely is a GP who cycles to work and for leisure
Xavier Brice, Sustrans Chief Executive said:
"We are delighted to have the National Transport Authority join the Bike Life project, the first outside of the UK.
"It is wonderful to see cycling booming in the Irish capital and reaping the great health, environmental and economic benefits that it brings."

Cycling is great for our mental health and fitness
Bridget Kiely is a GP who cycles to work and for leisure but also to visit patients.
As a health professional Bridget not only encourages cycling to promote good physical and mental health but recognises it as a solution to the problem of air pollution:
"From a health perspective for my patients and myself, cycling is important, now more than ever with rising inactivity and obesity in Ireland.
"Cycling is great for your mental health, I arrive to work much fresher, alert and in a positive mood. If we had fewer cars on the road, air quality would be much better."