We are working in partnership with Barnsley Council and the national Trans Pennine Trail office to improve accessibility and habitats on the Trans Pennine Trail between Worsbrough and Dodworth.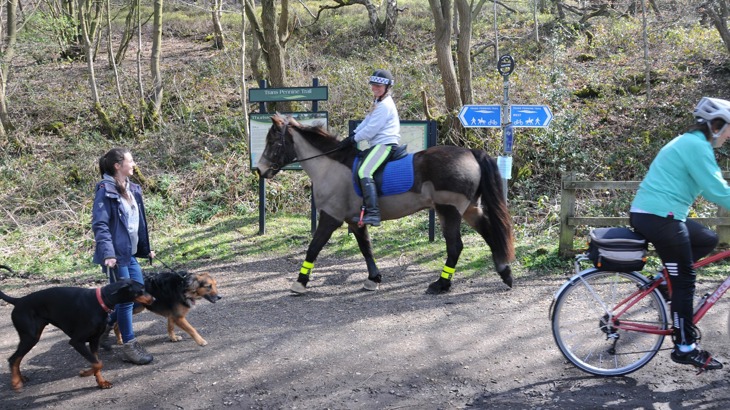 We have launched an online consultation to hear from local people about any additional features they would like to see along the Trans Pennine Trail.
Thanks to a £400,000 grant from the Department of Transport (DfT), Barnsley Council will be organising the new flexipave surface.
They'll also be improving drainage along the section between Smithy Wood Lane, Dodworth and Haverlands Lane, Worsbrough.
It will improve accessibility for people in wheelchairs or mobility scooters, riding a bike, on a horse, or pushing a pram.

What will be improved?
The project includes working with volunteers to create a more wildlife-friendly habitat along the traffic-free path.
The route acts as a natural corridor for many species, including Willow Tits, which are one of Britain's most threatened birds.
There is a small additional budget for seating, signage and information boards.
The partnership wants to hear from local people about what kind of seating, signage and information boards they want to see along the path.
The funding is part of a £21 million package from the DfT to upgrade the National Cycle Network across England.

Making the path more accessible for everyone
Sarah Bradbury, our Senior project officer in Yorkshire said:
"This section of the Trans Pennine Trail is a very popular route with all ages and has been particularly well-used in the last few months.
"These improvements will really help to make the path more accessible to people in wheelchairs or mobility scooters and well as prams, larger bicycles or horses.
"If you are local we would really like to hear from you about what additional features, such as benches or local information you would like to see on the path. Please go online and have your say." 

A valuable asset
Councillor Tim Cheetham, Barnsley Council's Cabinet Spokesperson for Place (Regeneration and Culture), said:
"The Trans Pennine Trail is a valuable asset and an important part of the borough, so it's vital that it is accessible for all of our residents and visitors.
 "This grant will help us to make the trail more inclusive and make it safer for those who use it.
"We hope the works will bring more people to the trail, particularly those who have not used it before.
"I would encourage our residents to fill in the survey and have their say to help shape the future of the Trans Pennine Trail."

Making the National Cycle Network safer and more accessible
We are working with local authorities across Yorkshire to help improve local cycle and walking networks.
Route improvements to the National Cycle Network are part of our recommendations in its Paths for Everyone report, a review of the Network, released last year.
The report highlights the need for the Network to be accessible for all and designed to a standard that would be suitable for an unaccompanied 12-year-old.
We aim to make the Network safe and more accessible for everyone, improve the standard of routes and double traffic-free sections by 2040.
The consultation on improvements to the Trans Pennine Trail between Dodworth and Worsborough runs until 24 August.