Sustrans was thrilled to be a part of the official launch of Cardiff Council's School Active Travel Plan. The launch took place at Howardian Primary School during a Health and Wellbeing event supported by Sustrans Cymru and Welsh Cycling.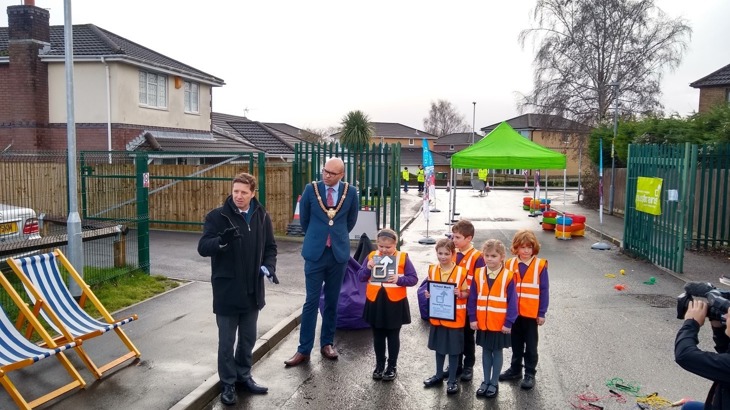 Cllr Caro Wild and Lord Mayor Daniel De'Ath presenting the Sustrans Silver School Mark Award.
The School Active Travel Plan provides advice and support to all schools in Cardiff so that they can develop an Active Travel Plan specific to their school. It's a part of the Council's commitment to ensure every school in Cardiff has developed an Active Travel Plan by 2022.
Cllr Caro Wild, Cabinet Member for Strategic Planning and Transport said:
"The Council has recently launched our 10-year transport vision for the city, which sets out ambitious plans to transform active travel and public transport in Cardiff. This vision sets out clear aims to reduce congestion, improve air quality and combat the ongoing problems of climate change.
"The daily morning and afternoon school run places heavy pressures on our road network adding to peak-time congestion. The numbers of children walking to has decreased over the last 15 years whilst the proportion travelling by car has increased. The Active Travel to Schools programme has a key role to play in reversing this trend."
Steve Brooks from Sustrans Cymru said:
"Congestion outside school gates is damaging and dangerous for children. Poor air quality and road safety concerns are a daily problem during drop off and pick up times. It's clear we must take action to make streets around schools safer.
"Walking, cycling or scooting to school should be the safest, easiest and most accessible option for all school children.
"Cardiff Council's Active Travel to Schools programme will help children, parents and staff to think of alternative ways to do the school run without having to depend on the car. The tailored approach of the programme will play a key role in changing the way people travel around the city, help clean up the air and reduce our impact on the climate emergency."
During the launch, Howardian Primary were also awarded a Sustrans Silver School Mark Award. The award is given to a school that demonstrate its commitment to promoting active and sustainable travel.
A community mapping exercise also took place during the launch where Sustrans worked with pupils, parents and local residents to identify the biggest problem points around the school.