A new and updated Memorandum of Understanding (MoU) has been signed between waterways and wellbeing charity Canal & River Trust and Sustrans.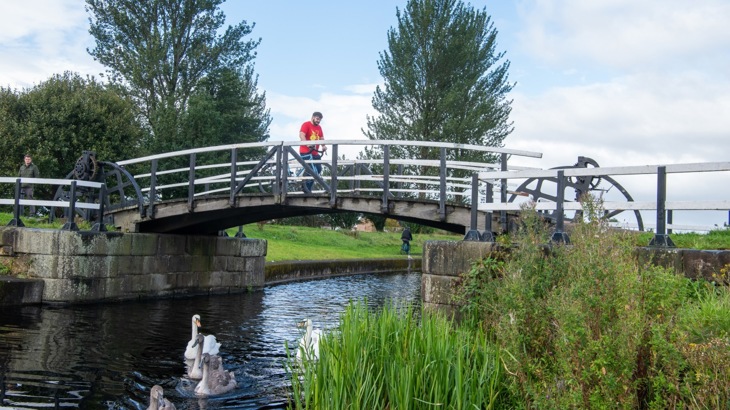 The two organisations share a number of common objectives around making the towpaths accessible for all visitors and believe there are significant benefits to them both working together.  
The MoU covers various areas where the charities will collaborate, including:
promoting the benefits of walking and cycling on the waterways to government and other third parties
identifying third party funding streams
promoting the pedestrian-priority Towpath Code
working to manage the interaction between different towpath users
sharing information and statistics
working together on the enhancement of Sustrans' National Cycle Network where it runs over the Trust's towpaths
addressing accessibility
increasing community involvement.
Both charities agree that people value the special characteristics of the waterways as a tranquil, traffic-free haven, which is important to preserve. 
The historic nature of the canals and towpaths means that it can be challenging to accommodate all visitors and that the needs of the slowest users and people using the water space, for example, boaters and anglers, have to come first.
Richard Parry, chief executive of the Canal & River Trust, said:
"We have worked closely and effectively with Sustrans in various ways over many years, and I'm pleased to have renewed our relationship. 
"Towpaths are fantastic places for walking and – where we have been able to improve their standard – for cycling, provided it is done responsibly, connecting places for free and accessible sustainable travel in the heart of cities and countryside. 
"By creating more opportunities for everyone to enjoy these green and attractive traffic-free paths, more people will come to the waterways and discover the physical and mental benefits of being by the water."
Xavier Brice, Chief Executive of Sustrans, said:
"Towpaths can form attractive and practical parts of walking and cycling networks and help more people have equal access to the natural environment.
"There are currently around 500 miles of National Cycle Network routes on towpaths and so we're excited to be renewing the partnership with the Canal & River Trust to continue our work of creating traffic-free paths for everyone.
"With soaring levels of obesity and poor mental health, providing a safe and accessible space that fosters physical activity and wellbeing has never been more important."