St Mary's C of E Primary School is being supported by Sustrans and My Journey, Southampton City Council's sustainable travel brand, to close the road outside its gates to vehicles from 8.15am to 9am and 2.45pm to 3.30pm every weekday during term time to help its pupils get to school safely.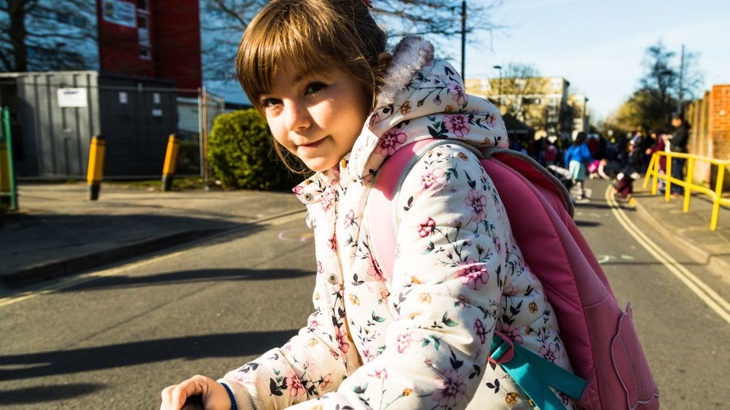 Closing the roads outside schools at drop-off and pick-up times makes it safer and more enjoyable for children to travel to school actively
Retractable bollards have been installed on a section of Golden Grove that is directly outside the school. They will prevent motor vehicles from passing or idling outside the school at drop off and pick up times.
Our aim is to ensure pupils and their families can cross Golden Grove safely, and to help improve air quality and reduce congestion around the school.
Sarah Leeming, Head of Delivery in the South of England, said: "We're really excited to see the school community at St Mary's embracing a road closure of this sort.
"By making the environment outside the school feel calmer and safer, we hope that more families will feel able to walk, scoot or cycle to school, instead of jumping in their cars. This will have benefits in terms of reduced congestion and air pollution, as well as increasing children's activity levels. Well done to all at St Mary's and Southampton City Council who have made this positive change happen."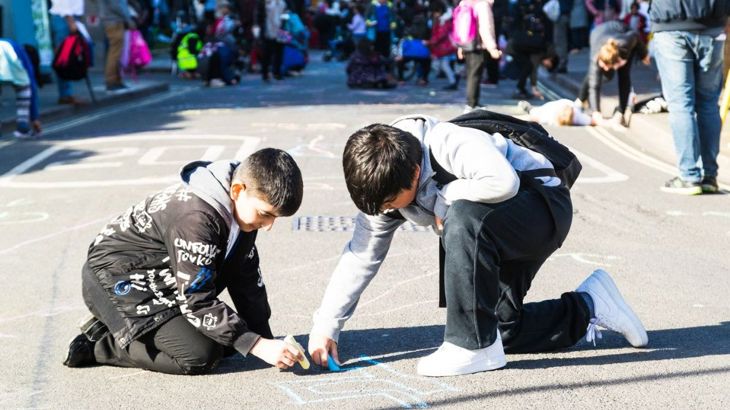 School Streets closures give children the chance to safely enjoy the space outside their schools
This is the second school road closure using these bollards outside a school in Southampton. St Mary's follows the success of St John's Primary and Nursery School, who introduced a similar closure on French Street in November 2018, also supported by Sustrans and My Journey.
Back in March 2019, St Mary's took part in School Streets, our nationwide initiative to provide a safer environment for the school community by applying temporary road closures outside of schools. They were one of four School Streets road closures in Southampton, and one of 40 schools across the UK who took part.
Following its success, the school closed the road again, once in July and again in November. With support from the school staff and parents, the vehicle free space was used to run activities for the pupils, from scooter skills, to skipping and ball games.
School travel champion and teacher at St Mary's C of E Primary School, Donna Berry, says "We are absolutely thrilled to have the road closure outside of St Mary's to ensure our pupils and their families have a safer journey to school. Our parents have been really supportive of the long term closure and have already noticed how much calmer the children are when they arrive at school. We hope this will encourage more families to walk, scoot or cycle to school."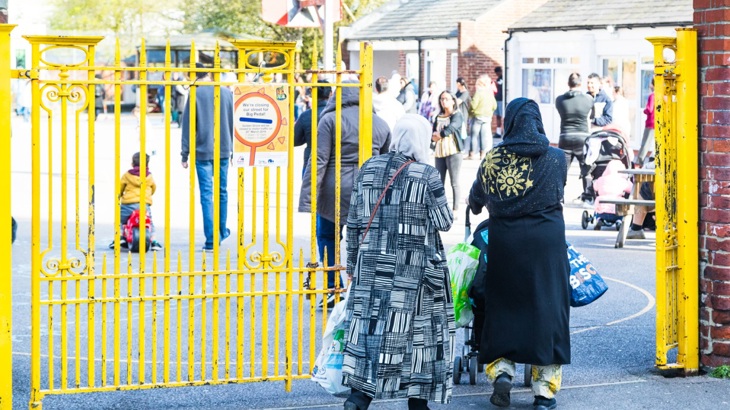 Parents have been supportive of the road closure outside St Marys
Councillor Jacqui Rayment, Deputy Leader and Cabinet Member for Transport and Public Realm, says: "The part-time closure of Golden Grove outside St Mary's CE Primary School will provide a safer environment for children at the school entrance and a more pleasant local environment for residents, pupils, parents and school staff alike.
"We hope the closure will give more families the confidence to discover the benefits of walking, scooting or cycling to school. This in turn will help to reduce congestion and air pollution, supporting our Green City vision for a cleaner, greener, healthier and more sustainable city."
The school has been part of our Bike It project since January 2017, encouraging pupils, staff and parents to cycle, scoot or walk to school whilst leaving the car at home. Pupils have taken part in scooter and cycling skills, a 5-minute walking zone and a bike club. Most recently Sustrans has started working closely with school staff to encourage them to travel more actively too.