Work on a new cycleway on Leigh Road in Wimborne, Dorset, is set to begin in January 2021. The project will be delivered by Dorset Council and BCP Council, with funding through Sustrans' Paths for Everyone programme and the Transforming Cities Fund.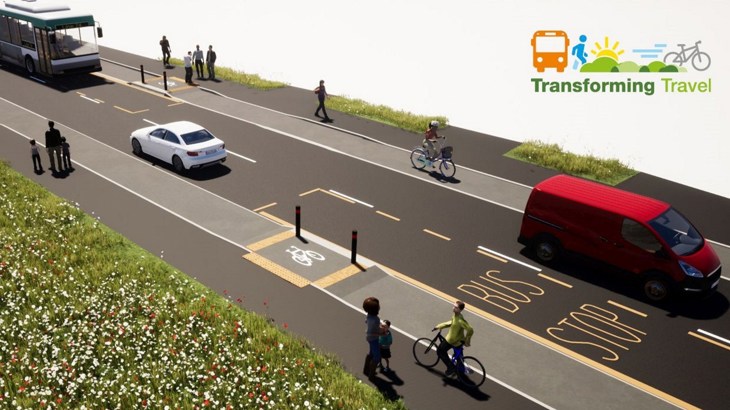 The scheme will make more space for safe walking and cycling, filling a gap in a traffic-free route of the National Cycle Network (image courtesy of Dorset Council)
The project aims to reduce traffic on the busy B3073 by providing safe alternatives to the car and to improve the user experience for everyone.

Safe, sustainable transport
The scheme is part of a wider Transforming Travel programme across Dorset.
It will provide a safe, sustainable transport link between residential areas, employment, leisure facilities and schools.
And it will link to proposed new developments and community facilities in Wimborne.
Currently, people choosing to ride a bike have to travel on the busy road – which carries around 12,600 vehicles a day – or are forced to use the pavements.

Filling a gap on the National Cycle Network
The new cycleway will link with existing National Cycle Network route 256, filling a gap on an otherwise traffic-free route.
It will also link to proposed schemes on Wimborne Road West and East, Ham Lane and beyond to provide a continuous, attractive network for people on bikes to key destinations.

Extra improvements
The project will also see other improvements made to turn this trunk road into a road that is a cleaner and safer space to be. These include:
reducing the vehicle speed limit from 40mph to 30mph
two new crossings for pedestrians and cyclists
better pavements for walkers
improved bus access.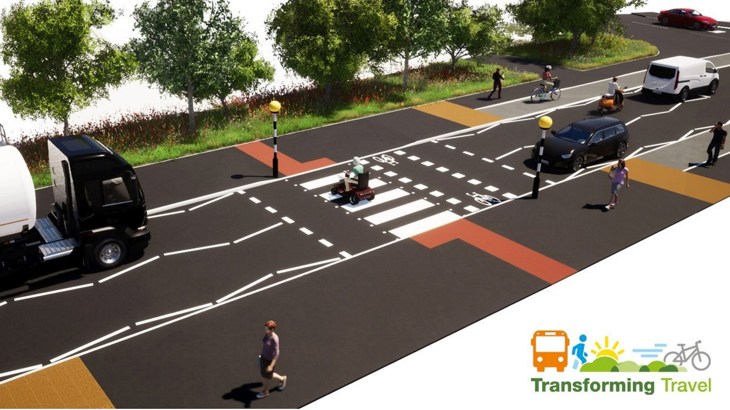 There will be two new pedestrian and cycle crossings. (Image courtesy of Dorset Council)
Happier, healthier towns
James Cleeton, Sustrans director for the south of England said: "It's great to see this project coming to fruition.
"It's one of our Department for Transport-funded activation projects, which will make the National Cycle Network a more accessible and enjoyable network for everyone.
"We need to make changes to the way we travel if we are to tackle the climate emergency, and to make our towns happy, healthy places to be.
"By providing real alternatives to private cars, Dorset Council and BCP Council are taking important steps to doing this."