An extensive project has reconnected the communities of Keswick and Threlkeld in the Lake District, and the trail has already received hundreds of walkers and cyclists in its first week open.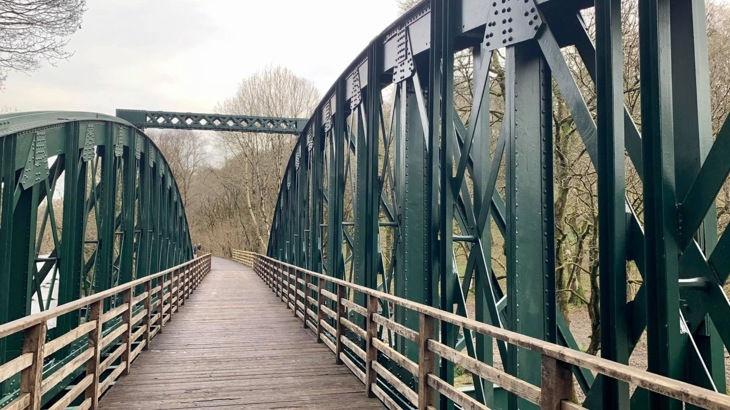 New bridge crossing the River Greta, ©Adrian Strand
The reopening of the trail this December marks five years since Storm Desmond swept across Cumbria, causing major flooding and making the path unusable. 
Building bridges
The refreshed trail, connecting National Cycle Network Route 71, benefits from 200m of brand new path as well as two new bridges. These replace the former railway bridges crossing the River Greta which were washed away in 2015's storm.
Further crucial improvements to the entire trail make it resilient to future flooding.
New picnic benches on the trail, ©Adrian Strand
Alongside these improvements, new picnic benches and viewpoint perches offer great places to stop and enjoy the picturesque surroundings. Those walking, wheeling and cycling along the route can find out more about the national park's plants, wildlife and local history through a new story trail. 
Funding the project
The project was made possible by funding from Highways England, Cumbria Local Enterprise Partnership and the European Structural and Investment Fund, which supports low carbon activity to improve local growth and create jobs.
Funds were also raised by the local community in a campaign led by the Lake District Foundation. Efforts included quiz nights, online auctions and even duck races. Residents, visitors, businesses and organisations all did their bit to help reconnect the much-used route.
A traffic-free trail
Jonah Morris, Partnerships Manager for Sustrans North East and Cumbria, said: "Sustrans welcomes the reopening of the Keswick to Threlkeld Railway Trail, coming five years after Storm Desmond hit Cumbria.
"This fantastic piece of infrastructure means cyclists will no longer rely on the on-road diversion and will be able to use the traffic-free trail between Keswick and Threlkeld.
"Traffic-free infrastructure such as this allows all path users to explore and enjoy the fantastic scenery of the north lakes in a safe and accessible manner."