Today the Department for Transport released findings from the 2019 National Travel Survey, which looks at how people in England travel. It combines research on people's attitudes towards travel and transport. Our Head of Public Affairs, Rachel White takes a look at the results and explains the interesting key points made.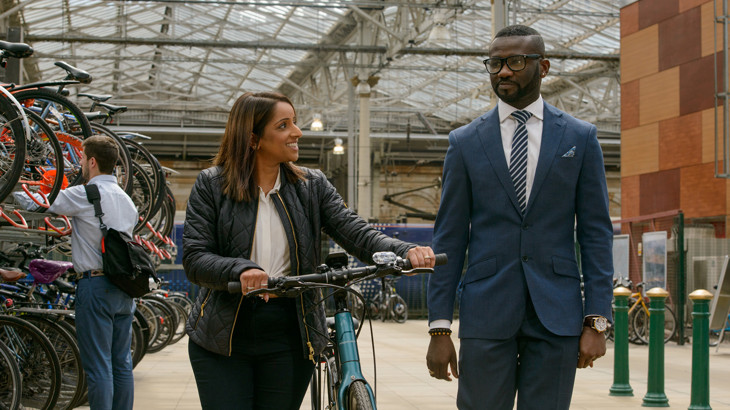 The Department for Transport has released the findings from the 2019 National Travel Survey, which examine how residents of England travel.
It accompanies the release of the National Travel Attitudes Study, which provides information on public attitudes to travel and transport.
The data is used to assess the impacts of transport policies, monitor trends in travel, and explain transport patterns amongst different groups of people.

Demand for investment
Commenting on the findings, Rachel White, Head of Public Affairs at Sustrans said:
"The Covid-19 pandemic has disrupted established travel patterns and emphasised demand for investment in walking and cycling.
"While 2019 saw cycling levels in England remain at 2%, with a small drop in the number of walking trips being made compared to 2018, so far in 2020, many more people have walked and cycled locally during the initial stages of the lockdown as vehicle use plummeted.
"We know that people want to walk and cycle more yet safety concerns remain the main barrier".

Walking and cycling will cut pollution
Rachel continues:
"The Government data shows that 66% of respondents consider cycling on roads too dangerous, while 61% of respondents have no access to a cycle.
"Additionally, 48% of respondents were concerned about poor air quality in their immediate area, with cars being highlighted as the main area of concern.
"Making it easier for people to walk and cycle and to leave the car at home will cut pollution, tackle the causes of poor health, and improve the safety of our streets.
"As public transport capacity remains limited by the pandemic, more people travelling actively where they can means there's more space on public transport and roads for those who need it."

We need to reduce the inequalities in cycling
"In May, the Government made £250m emergency funding available to local authorities to implement temporary traffic measures that enable social distancing.
"This was announced as part of £2bn for walking and cycling over the next five years, and the recently published 'Gear Change' Cycling and Walking Vision marks a big step forward in making active travel easier and more inclusive and is warmly welcomed by Sustrans.
"Many of the actions outlined from the Government, such as radically improving the quality of walking and cycling infrastructure, introducing low-traffic neighbourhoods, and cycle training for all people, have the potential to help reduce some of the existing inequalities in cycling.
"They can help get the dial moving by the time future National Travel Surveys are published".