Northern Ireland's Public Health Agency has joined Infrastructure Minister Nichola Mallon and walking and cycling charity, Sustrans, in calling for parents to rethink the school run, as pupils return to the classrooms after a five-month absence.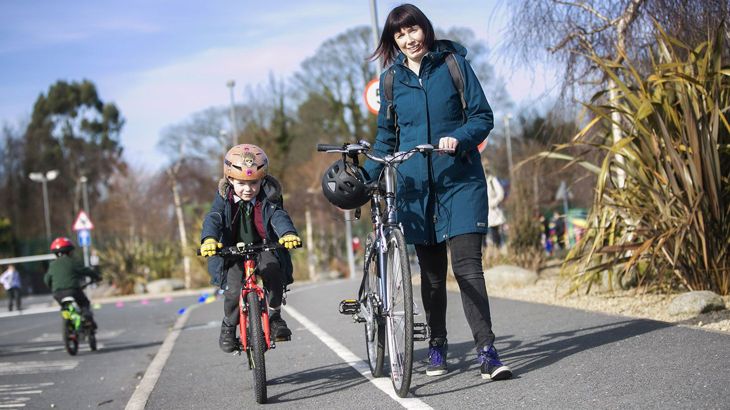 Claire Montgomery with her son Alex leaving school on their bikes
The Public Health Agency, Department for Infrastructure and Sustrans are urging parents across the country to leave their cars at home when accompanying their children to school, and to walk, cycle or scoot instead.  
With many people still working from home, daily commute travel patterns are likely to have changed. 
Improvements for all
Infrastructure Minister, Nichola Mallon said:

"Out of the darkness of Covid-19, one of the positive behavioural changes we have seen is more people and families choosing to walk or cycle as part of their journey or daily exercise. 
"With the new school term starting, it is the perfect time to build on this where we can.  I would encourage parents where it is possible to leave the car at home and enable our children to actively and safely travel to school.
"Walking, cycling or scooting to school improves children's health, confidence and concentration as well as teaching them the rules of the road and how to walk and cycle safely.
"The Active School Travel Programme which my Department co-funds with the Public Health Agency aims to encourage children to make the move to more active ways to get to/from school. My Department also supports the Cycling Proficiency Scheme which also trains school children how to ride their bicycles safely.
"More walking and cycling benefits not only our own individual health, by cutting down on traffic congestion and reducing air pollution, we will also improve the quality of life for everyone in Northern Ireland.
"Greener, cleaner, healthier and happier people and places must be our aim as we learn to live with this new normal."
Making a positive change
We are asking parents to use the chance to make a positive change, by encouraging their children to travel to school in greener healthier ways.

Sustrans Active School Travel programme manager Beth Harding said:
"It has been exciting to see more families out walking and cycling in the past few months. With the return to school, families have an opportunity to create new healthy habits.
"The journey to school is a chance to get a bit of regular daily exercise for both children and their parents who may still be working from home.
"Now is the time to make a positive change to the way our children travel to school and to make it safer and healthier for everyone. 
"We're urging families to leave the car and make the school run fun with walking, cycling and scooting."
Now is the time to make a positive change to the way our children travel to school and to make it safer and healthier for everyone.
Across Northern Ireland more pupils than ever are being driven to school, according to findings from the Continuous Household Survey.
The reverse is the case for schools engaging in the Active School Travel programme which has made a positive impact on children's travel habits.
The number of children walking, cycling and scooting to school increased from 35% to 53% by end of 2018-19 school year.
At the same time, the number of pupils being driven to school fell from 58% to 41%. 

The organisations also point to the fact that it will still be necessary to keep social distancing between adults at school gates, so people are urged to leave the car at home to avoid crowding.
Tackling obesity

Air pollution is also a major health concern, as is the rising levels of obesity. 
The Public Health Agency is urging parents to use the school run to get in the recommended physical activity for themselves and their children.
Dr Hannah Dearie from the Public Health Agency said:
"We are delighted to support the Active School Travel programme, in partnership with DfI, to help reduce the levels of childhood obesity in a fun, safe and interactive way.
"Obesity is one of the biggest public health challenges of our time and guidance indicates that those who are seriously overweight are more at risk of severe illness from COVID 19.
"As many as one in four children aged between 2 and 15 years old are overweight or obese in Northern Ireland. Active travel through walking, cycling and scooting can help reduce this statistic and also helps a child's mental health.
"After one year in the programme, the number of children completing the recommended 60 minutes of physical activity every day increased from 27% to 38%."
Local schools are keen for parents to swap the car for active travel.
Principal Micheal McIver from Knocknagin Primary School, in Desertmartin said:
"We support Sustrans in their call for parents to ditch the car and walk or cycle to school with their children instead.
"More families walking and cycling will help reduce congestion at the school gates and will help pupils arrive ready to learn for the day."


Find out more about the Active School Travel Programme in Northern Ireland.