We're working with schools across Wales to make it easier for children to walk, scoot or cycle. Ysgol Llywelyn in Rhyl has been ambitious in their aims to increase the numbers of families who choose active travel to get to school. And our Active Journeys Programme is helping the school reach its goal.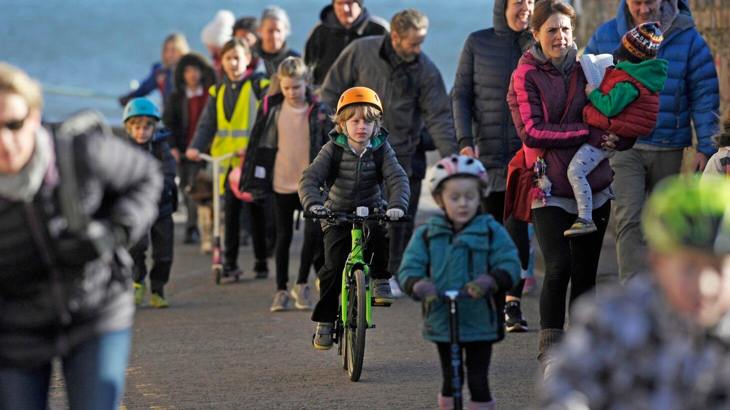 Active travel isn't just important for the fight against climate change and reducing air pollution. It's also great for our physical health and wellbeing.
Our Active Journeys Programme in Wales is helping children across the country to safely, easily and confidently travel to school by foot, bike and scooter.
Sustrans Cymru Active Journeys Officer, Gwen Thomas, worked with Ysgol Llywelyn to improve the number of children getting to school by foot or bike.


An ambitious plan 
Ysgol Llywelyn had an ambitious plan. They wanted to see all Year 2 pupils able to ride a cycle before they finished their time in the Foundation.
The school joined the Sustrans Active Journeys Programme and were eager to build on the work they had already done as part of the Healthy Schools programme.
They quickly achieved both Bronze and Silver Active Travel School Awards.
These statuses are awarded to schools that have worked to bring about organisational, cultural and behavioural changes which help the school community choose to travel in more active and sustainable ways.


Promoting active travel to school 
They promoted active travel to school through events, classroom work, and the installation of cycle and scooter storage, with help from Denbighshire County Council.
Ysgol Llywelyn were already supporting children interested in cycling through Go Ride sessions.
The school decided to go a step further and embed the ethos of Active Journeys in their School Development Plan.
In order to put the plan into action, the school decided to invest in a fleet of bikes to help achieve its ambitious goal.
Through Sustrans' partnerships, they were able to purchase a range of bikes for different abilities.
These included Tadpole Balance Bikes, Frog Bikes and a few larger bikes so that pupils could get pedalling once they had mastered the art of balancing.

Improving health and wellbeing
Gwen Thomas, our Active Journeys Officer said:
"Ysgol Llywelyn is a great example of a school that understands the importance of active travel.
"Working with this ambitious school has been a pleasure and it's been great to see so many pupils learning new skills.
"Being active on the journey to school helps improve the general health and wellbeing of the school community.
"There are many other benefits too such as improved concentration, performance, behaviour and attainment."