We've teamed up with Cycling UK to call for the Department for Infrastructure to reallocate road space during the coronavirus lockdown and beyond to create a healthier, more resilient population. Read our open letter and recommendations.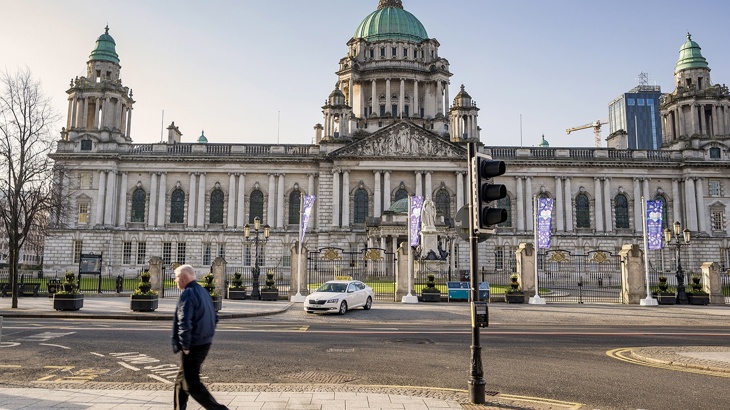 Dear Minister,
Re-allocating road space
Firstly, thank you for all the hard work you and the Northern Ireland Executive are putting into tackling the COVID-19 pandemic.
We greatly appreciate your efforts and understand how busy you must be.
As you will be aware, towns and cities around the world are enabling temporary changes to streets and roads, aimed at supporting the safe movement of key workers choosing to walk and cycle during the current crisis.
These changes provide space to allow social distancing, preventing the spread of coronavirus and supporting the continued fight against the current pandemic.
We believe the vast majority of people are doing their best to keep a safe distance but are hampered by narrow and inadequate infrastructure.
Many footways are less than two metres wide resulting in many pedestrians being forced on to roads or crossing roads to the opposite pavement.
We are also aware of a noticeable increase in people cycling, as people follow guidelines to take exercise or are commuting by cycle to avoid public transport.
While this is welcome, some of these cyclists are new to cycling and providing safe cycle lanes would encourage and sustain this healthy mode of transport.
Temporary infrastructure is already being rolled out successfully in Dublin, Cork and Cardiff; and as far afield as New Zealand, Canada and Germany.
In Northern Ireland, we have vast amounts of currently underused road space which can be temporarily reallocated at low cost.
For example, a traffic lane along the Antrim Road, in north Belfast could be transformed into a contra-flow cycle lane and the parking bays on one side closed to parked cars to extend the pavement for pedestrians.
This would also enable key workers, including those at the Mater Hospital, to travel safely by cycling.
Sustrans Head of Built Environment in London provides more practical examples in this blog.
The Department for Infrastructure (DfI) has the power to take initiatives of this kind forward using Experimental Traffic Regulation Orders.
Working with partners, Sustrans and Cycling UK have published an open letter setting out our call.
We have been in touch with your Special Advisor in regard to this and are aware of cross-party support among Belfast City Councillors, a number of Assembly Members and MPs.
We feel it prudent to plan ahead and implement these temporary measures now for key workers but also to allow the wider population to travel by cycling or on foot.
While this pandemic is immensely challenging, it has also created an opportunity which you should seize.
Increasing active travel is, after all, a key Outcome of the Assembly's Programme for Government.
From the data we've seen a dramatic reduction in air pollution as a result of much less traffic on our roads.
Defra monitoring recorded a quarter less air pollution in Belfast by the end of March alone.
Ironically this will have had a huge impact on improving the health of people with respiratory conditions in the city.
Emerging evidence also suggests that the risk of death from Covid-19 is increased in areas of poor air quality.
The improvements in air quality we are seeing during the current lockdown can be extended if we encourage and enable people to adopt healthy and sustainable transport modes as part of their routine.
Post-lockdown a large proportion of our population will again be moving around towns and cities, but will be hesitant to use public transport where there is a greater risk of transmission.
We are concerned that we will see an increase in private car use – unless we invest in safe walking and cycling infrastructure.
A fit and healthy population is a more resilient population.
We believe Northern Ireland needs to consider whether its infrastructure is fit to cope with future waves of coronavirus and begin the process of tackling this today.
If you wish to discuss this further please don't hesitate to contact us.
Yours faithfully,
Stephen Martin
Sustrans Interim Northern Ireland Director
Duncan Dollimore
Head of Campaigns, Cycling UK
We're supporting Local Authorities to re-allocate road space for cycling and walking during the COVID-19 pandemic and beyond. Take a look at what we can do.