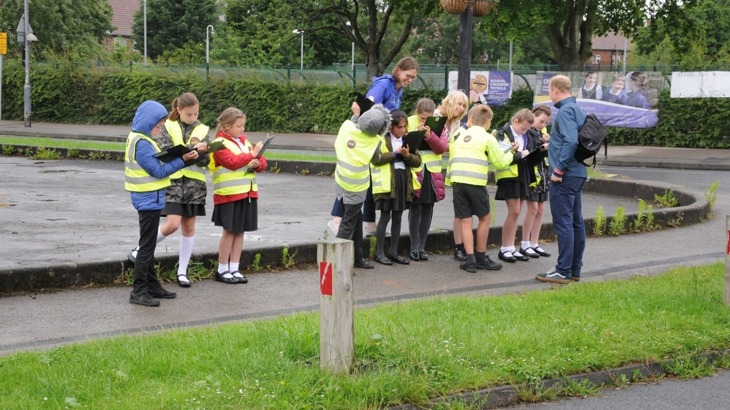 Two York schools are calling for parents to park away from the school gates during drop off and pick up times and turn off their engines to help make their streets feel safer and more pleasant for walking and cycling, ahead of our Bike to School Week (23-27 September).
Children at Our Lady Queen of Martyrs and Acomb Primary School, which are located on neighbouring streets, carried out a street survey with our local schools officer, to consider how the street could be made safer and more attractive for travelling actively to school.
They have developed a joint 'Manifesto for Change' to highlight improvements they would like to see on the street and to encourage parents, residents and neighbours to create a safer, cleaner environment around the school gate at peak times.
Key points of the manifesto are:
Install a safe crossing place e.g. a zebra crossing
Hand out flyers to stop parents idling their cars
Plant trees in the verges
Introduce speed bumps and chicanes.
Cut hedges on the paths to make more space
Children at Acomb primary have developed their own posters all around the school entrance asking parents to think about their drop off and pick up habits. Both schools have set up a 'park and stride', to encourage parents who want to drive to park at the York RI Rugby and walk with their children to school. They are part of a network of schools across York working with us to actively encourage walking and cycling and scooting to school.
The call comes as we invite schools across York to join Bike to School Week, from 23-27 September, when children across the UK cycle their school journeys and compete to win prizes.
Katrina Adam, schools officer in York said:
"The children considered how the general street environment around the schools made them feel, and what could change to encourage them to walk or cycle to school.
"The manifesto is a call to action for the school, local authorities, parents and residents to help create these changes to get more children active on their school journey.
"We know that children, parents and teachers are concerned about safety levels and air pollution around schools and it's really exciting that Acomb and Our Lady Queen of Martyrs are part of a small group of pioneering schools across the UK which are trying to make changes.
Please do support the children on their campaign to make positive changes to their school environments, and the journeys they make to get there.
Emma Barrs, Headteacher at Our Lady Queen of Martyrs Primary School said: "We are very proud of the children for setting us all such a good example in their commitment to active travel and improving air quality. 
"We are glad to have this opportunity to work together with our friends at Acomb Primary, Sustrans and the City of York council. Together we can make a real difference."
Councillor Andy D'Agorne, Deputy Leader of City of York Council said: "The young people really worked hard to think about solutions to make their journeys to school safer and more attractive.
"I would certainly encourage more work like this in schools so that walking and cycling can be a better option for everyone."
We work with 15 schools across York to help inspire more children to walk or cycle their school journey, thanks to funding from City of York Council. We also own and manage two popular walking and cycle routes in York – the Foss Islands Path and the Solar System Way, as part of the National Cycle Network.
Current figures show that only 2% of primary school children in England currently travel to school by cycle. This is a stark contrast to cycling levels elsewhere such as in the Netherlands, where cycling is the main mode of transport for 49% of primary school children. These figures suggest that more needs to be done in the UK to make cycling an easy, safe, and appealing option for travelling to school.
Find out more about Bike to School Week