We have been working in partnership with Newport City Council to run a street trial at St. David's R. C. Primary School.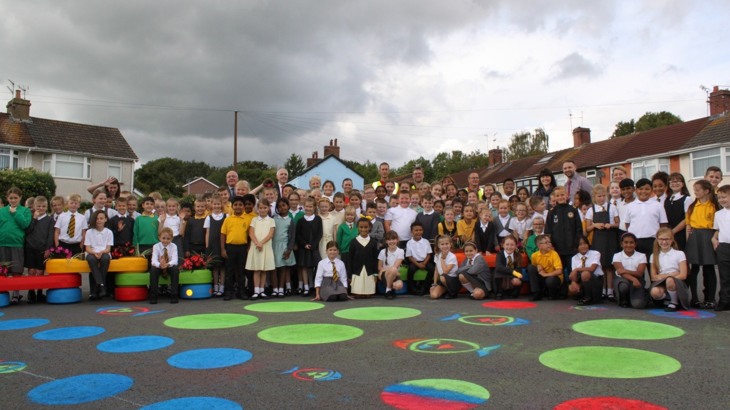 Street Trial is a community-led process working closely with pupils, staff, parents and local residents to develop ideas for improving road safety around the school. It also provides solutions to make it easier for people to walk and cycle to and from school. The event trialled some solutions to the biggest problems that were identified through workshops with the community.
Patrick Williams, Sustrans Cymru Collaborative Design Manager said:
"This street trial event is about improving child safety around the school and making it a healthier, cleaner and more active environment.
"One of the main problems identified by the community has been congestion; often there are over 100 cars travelling in front of the school at pick-up and drop-off times.
"Pavement parking is also a big problem and often results in parents and children having to walk on the road. Poor road layout also means that there are no crossing points around the school."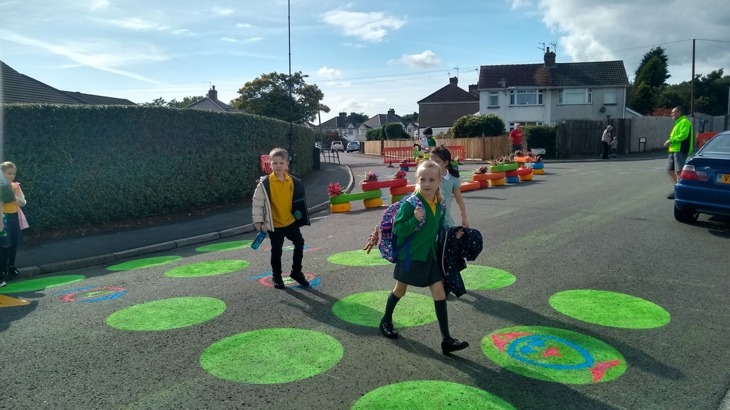 A temporary new crossing was created outside the school.
During the street trial, the community's ideas to combat these issues were put into action. This included creating two areas that would increase pavement space around the school and creating a temporary new crossing outside the school.
These areas were created by using temporary barriers, flower planters and chalk spray paint to demonstrate what the area could look like if traffic volume was drastically reduced.
Newport Council Leader Cllr Debbie Wilcox said:
"We welcome this project to help reduce congestion outside St David's RC Primary School by creating and improving pedestrian and cycle routes to the school and introducing the drop-off point in Tredegar Park so parents can leave their cars and walk their children to school.
"It is great that the pupils, parents, staff and local residents have played their part in helping to find solutions and at the same time helping to promote our Active Travel strategy."
Lee Waters AM, Deputy Minister for Economy and Transport, who attended the event said:
"The challenge of getting parents to behave differently around schools is a habit. The problem with most schemes by councils is that they don't include in the process of talking to residents and parents to understand what it's going to take to get people thinking and acting differently.
The great thing about this event is that it's interactive and flexible. We know that one of the main barriers to people travelling differently is their perception of an area, whether or not it's safe and whether it's comfortable to walk and cycle.
"The focus of this project is about changing people's perception of how space works and how we relate to it.
"Using the planters, changing the sightlines to make it more difficult to drive quickly and making it more pleasant to walk and the cycle is crucial to changing that mental dynamic.
"I'd like to see how we can include this type of engagement as standard with all projects, this is a really interesting and exciting intervention to try and get the agenda to stick."