Our team in Birmingham have been working with the community to produce a series of walking maps for older residents to make it easier for them to be more active.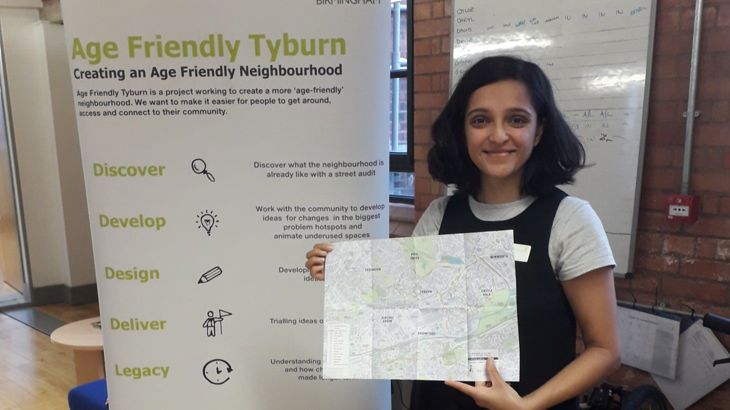 The maps have been designed to help increase residents' knowledge of the local area and reassure them of the suitability and safety of identified routes.
Five routes have been published with directions to a number of locations including parks and a local nature reserve. There's even a route which takes in a picturesque area famed for its beautiful bluebells in the spring.
The maps were produced through community co-design with workshops taking place across the area. Local residents were invited to give their opinions and design ideas before helping to decide what went on to the maps.
Healthy walking lifestyles can help to keep older people physically active and encourage them to maintain social connections. Designers hope the maps will contribute to a sense of community cohesion by inspiring residents to walk the routes with confidence, becoming more active.
Over a period of five months, we delivered the 'Walking Maps Tyburn' project, which ran from March to August 2019. It was funded through the Ageing Better in Birmingham project which aims to tackle social isolation in the city.
Along with other projects across the city, it's been commissioned by Birmingham Voluntary Services Council with a £6 million grant from the National Lottery Community Fund.
Another scheme to be funded through this project is the 'Age Friendly Tyburn' project which we are delivering until 2020.
The project aims to encourage residents to be more active, improve their physical health and increase their interaction with others. Through this community-led project, volunteers have been auditing and assessing the local street scene.
They've been identifying barriers, and solutions, to help people become more active which can then be trialled ahead of proposals for lasting changes.
Commenting on the conclusion of the Walking Maps Tyburn project, our Community Engagement Officer in Birmingham, Ridhi Kalaria said; "We all hope that we'll have a happy retirement and won't have to live in social isolation and loneliness.
"However, sadly it is a reality for many people and it could happen to any of us.
"What many people don't realise is that the street scene really can discourage people from going out of their house. For example, poor signage, a lack of seating, high traffic volumes and speeds and short crossing timings can all be deterrents to venturing out for a walk.
"This can minimise interaction with other people and present challenges for physical health.
"Our work in Tyburn is all about identifying these barriers and tackling them head-on so that people can age better in Birmingham."