Our team in Nottingham are giving jobseekers the chance to access free cycle training through October and November.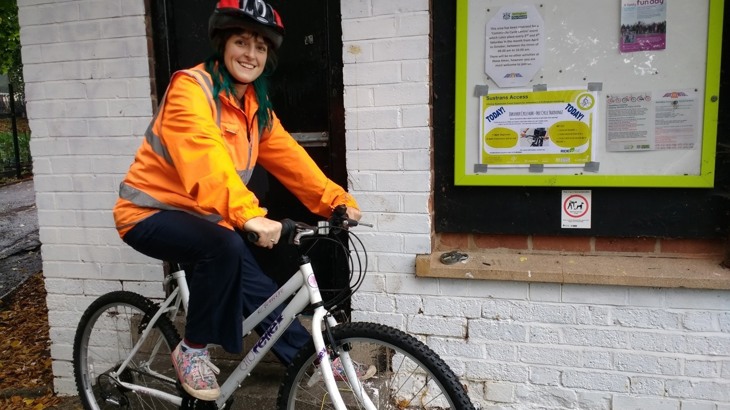 Suitable for beginners and improvers, the training is delivered at 'cycle hubs' across the city giving jobseekers the opportunity to practice their cycle skills in a safe environment. They can even borrow a bike on the day to enable them to take part in training.
Many jobseekers struggle with the cost of travel, particularly accessing training and attending interviews. However, cycling offers a range of benefits such as being a cheap, sustainable and healthy way of getting around.
The JobSeeker Cycle Hubs are part of the Sustrans Access project which offers travel support and cycle services to jobseekers in Nottingham and Derby. The project has provided personalised travel plans to more than 470 jobseekers across the two cities.
So far, over 300 have taken upcycle services such as a free reconditioned bike, bike maintenance, 'build a bike' courses and cycle training. 
Many of the people who've taken part in the project say they feel able to get around more confidently without relying on public transport saving them money.
Commenting on the project Wayne Brewin, East Midlands Delivery Coordinator from Sustrans said;
"Cycling addresses a range of very current issues such as air pollution, sustainable travel, staying active and social isolation.
"Jobseekers will often have the additional stress of getting around to interviews and training while having very little income. Cycling offers a multitude of benefits as well as a cost-effective way to travel.
"This is just one aspect of the wider project that is helping jobseekers travel in Nottingham and Derby as part of the Access project."
Councillor Adele Williams, Nottingham City Council's Portfolio holder for Adult Care and Transport said, "Access to affordable transport can be a real barrier to employment opportunities - whether that's getting to a job interview or heading in for an early shift before the buses start for the day. 
"We're really pleased to support this project which aims to give individuals the means, skills and confidence to start cycling.
"Offering people a cheap, sustainable means of transport is good for them and the environment, and will help to open more doors to employment opportunities."
Cycle services in Nottingham are provided by local partners Ridewise and Nottingham Bikeworks. The Sustrans Access Project is part of Nottingham City and Derby City Councils' Access Fund programme.
Get in touch to find out more about the project