Pupils at Moulsecoomb Primary School in Brighton enjoyed an amazing bike adventure on Thursday to celebrate National Bike to School Week.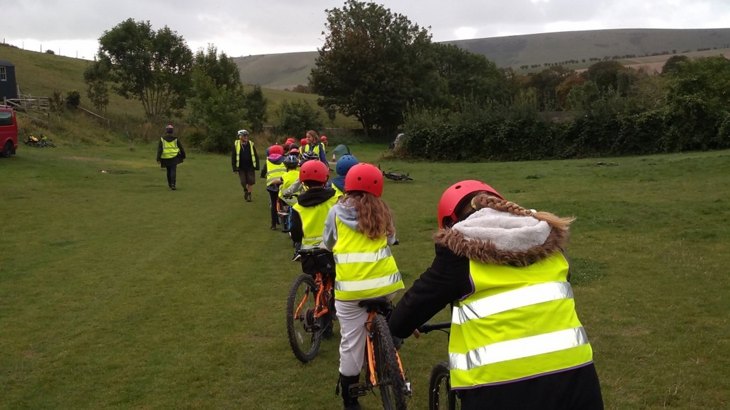 We led a group of year 5 children on a bike ride to a campsite in Lewes. Once there, on a wild and blustery night, they set up tipis, cooked over an open fire and enjoyed nature activities run by Sussex Wildlife Trust.
For many of the pupils, this was the first time they had stayed away from home, making it a real adventure. They said they missed home, but all of them said they would love to do it again. The children particularly enjoyed the campfire stories delivered by Calvin Cumiskey from Moulsecoomb School.
Moulsecoomb Primary has been working with Sustrans for nine years. They aim to encourage children to lead an active lifestyle, and to feel confident to ride their bikes to get to school.
Together, we have run a bike club over those nine years, and have seen a huge increase in the numbers of children who can ride a bike, from 50% at the beginning of the project, to almost 100% across the school now.
Every child in the school takes part in regular biking activities. These include learning to ride sessions, nurture groups for children who need more support, and a whole-school Cycle Sports Day.
Lucy Dance, Bike It Officer, said: "It was an absolute joy leading this ride. I loved seeing so many children excited to be out on their bikes and spending time in nature, despite the windy weather.
"At Sustrans, we encourage people to choose active modes of travel, rather than taking the car for short, everyday journeys.
By helping children to feel confident and enthusiastic about riding bikes, we're able to support them and their families to make those choices.
"This, in turn, has benefits for the whole community, helping to reduce congestion and air pollution in the city."
Ian Smith, School Bike Champion at Moulsecoomb Primary, said: "We really see the value in building excitement for children around riding bikes, and this bike camp did exactly that. The children thoroughly enjoyed the bike ride, and the nature activities and camp were an added bonus.
"We will continue to work hard to support children and families to choose active travel."
We have been working in partnership with Sussex Wildlife Trust for several years running bike to nature projects for schools across Brighton and Hove. We work in schools to develop children and staff's confidence on bikes and run the rides to a nature spot like the beach or Stanmer Park. Sussex Wildlife Trust runs activities like rock pooling, beach cleaning, building and cooking over fires, bug hunting and pond dipping.